Running a spa business can be so rewarding! As a spa, you provide much-needed TLC, relaxation, and an oasis of calm to your client's busy days, not to mention helping your guests feel more confident and beautiful. You know the importance of providing a luxury guest experience, from cosmetic services like facials and manicures to restorative services like massages. But what if you want to boost your spa's marketing to attract new customers and retain your loyal ones?
Here is a comprehensive guide to advertising your spa business, from traditional print marketing strategies to digital marketing activations to try this year.
How do I advertise my spa business when I first open it?
So, you decided to open a spa business! Or, maybe you've already built up a loyal base of clients and want to do something fresh.
An in-store event is an awesome way to provide your attendees with a beautiful experience full of social connection, pampering, and Instagrammable moments, a preview of their perfect spa visit.
Business Essentials Print Marketing
But before you go blowing up balloons and building a photo booth, do you have all your basics in check? When guests come, make sure you have your business essentials covered: print on-brand business cards so people can connect with you. Today's modern business cards can be made of thicker high-quality paper to translate your luxurious spa experience and even an embossed design detail for a sensory touch!
Also, ensure your in-shop products have beautiful stickers and labels with your logo on them, and that your services are advertised within-brand brochures at reception.

Shop for all your marketing essentials with TPH.
Promoting Your Spa Event
With all your business essentials ready to go, it's time to invite the guests. While social media is prevalent for getting the word out there — and we'll chat about social media marketing for spas later on — it can be a challenge to reach new people that aren't already your followers. That's where traditional methods still work wonders.
As a Canada Post Smartmail Marketing Partner, TPH has helped many businesses like yours to promote their in-store events with direct mail marketing. We can even help design your event postcards and flyers before mailing them to postal codes in your spa's area or targeting specific neighbourhoods you think would love a little TLC. It's a clever and effective way to reach new customers and get the word out about your spa.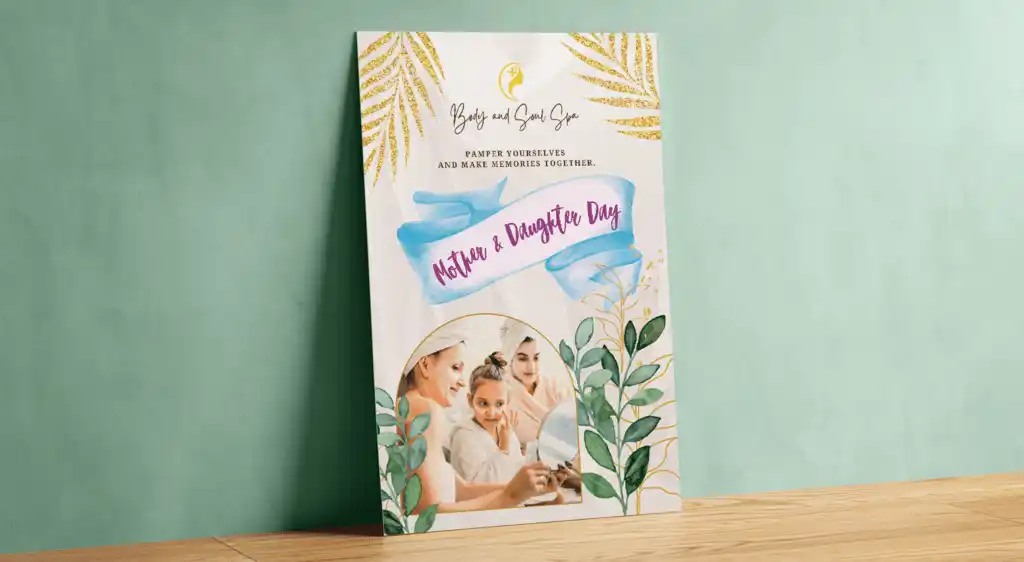 How To Host An In-Store Event For A Spa Business
We've mailed invitations to people in your local community, you've posted on social media to promote the event, and we've ensured multiple touchpoints for visibility and reminders, so what's next? The event itself!
To really make it a day to remember, create a beautiful installation to welcome your guests — print a backdrop with your branding so people can take photos for social media. Install sidewalk signs for more promotion and print banners so people are attracted to your spa to see what's happening! We also love balloons or flowers for an experiential event that's sensory and fun.
For extra points, invite influencers and media from your community to post "live on the ground" from the event and show just how beautiful your spa is and what the different services you offer are. Engaging with local partners like this is an awesome way to reach new people beyond your existing audience.
Of course, you want to thank your guests for coming — we always recommend creating on-brand swag bags with small gifts like a trial sample of the product you have in-store and a voucher for a discount on their next service.
Send a branded thank-you postcard to your guests after attending, either through email marketing — more on email marketing later — or through direct mail!
For direct mail, event essentials (banners & signs), or custom-branded thank-you bags, contact your local TPH Manager. Our expert team will support you with recommendations tailored to indoor, outdoor, or in-store events.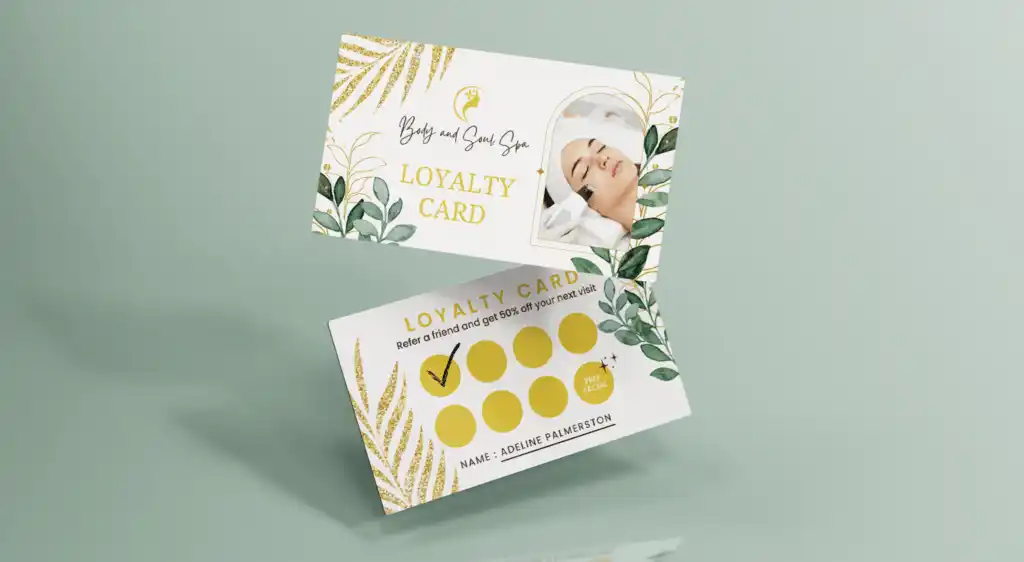 How Do I Attract More Customers To Our Spa? In-Store Marketing
Loyalty Program For Spas
Looking at initiatives beyond in-store event marketing, you have lots of options to attract more customers to your spa. Did you know it can cost businesses 7 times more to recruit a new client than to retain an existing customer? That's why we recommend a loyalty program to help with customer retention. Before you go out and get new clients, ensure your existing customer base is happy and you are doing your best to upsell to them, either with service add-ons or a program like, 'Buy 5 Services, Get 1 Free' to encourage repeat visits.
Referral Program For Spa Marketing
It's key to leverage your existing client base to tell their friends and family about you. This is where a referral program can come in handy. Ensure your referring client gets a gift card or a small token of appreciation when they refer a friend. When people look for a new spa, of course, they google it, but they will also always ask around and we love local Facebook groups for recommendations because of this. Make sure your guests have a beautiful experience that they'll want to share with the local community.
Facebook and Google Reviews
Are you leveraging the full power of Facebook and Google reviews? Google provides a quick short link you can include in your newsletter or follow-up "thank you" email after the service so the customer can leave a review. The more reviews your Google My Business profile has, the better! And, did you know customers read at least 10 reviews before making a confident decision?
In-Store Spa Marketing
One way to elevate your existing client's experience at your spa and get them to tell all their friends about it is to freshen up your brick-and-mortar location. Try a custom-printed window decal with your logo, business name, and seasonal elements like flowers for spring or leaves for fall to beautify your shop windows and attract attention.
Keep your backdrop from your event to set up a social media Instagram moment — think a printed backdrop with your logo or a neon sign with a cute phrase.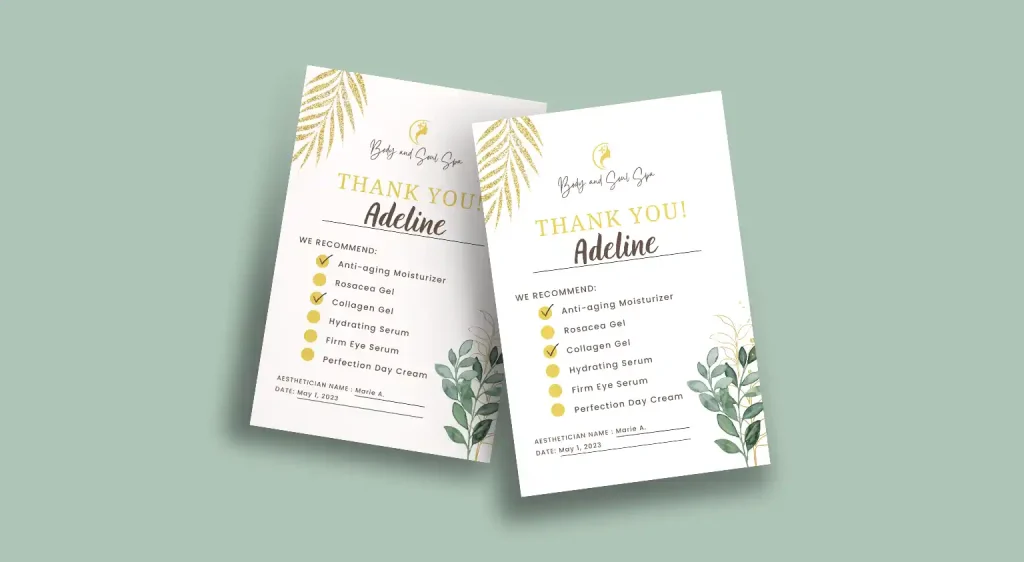 Personalizing The Experience
After the spa service, it's common for the cosmetologist or aesthetician to provide product recommendations, for example, skincare products after facials. Take this a step further and print postcards where the service provider can fill in the card with the client's name for a special touch.
You've organized an awesome event at your spa, decorated your brick-and-mortar location with print materials, and are rewarding your most loyal clients — so what else is there?
In the current age of the Internet, we'd be remiss to not recommend digital marketing strategies to keep your existing clients and attract new ones. For example, do you have an email marketing newsletter with exclusive promotions for your subscribers and other perks?
On your website, try your hand at blogging for SEO — share your expertise as a spa owner, cosmetologist or aesthetician to answer people's most common questions about spa services. Reading your insights will build trust in your spa and they'll remember you when looking for a new provider. Even if they're not in your area, they could shop your spa online for product delivery right to their door.
Another tactic to maximize Google's far and wide reach is to take advantage of Google Ads, particularly retargeting ads. This type of online ad shows up for people who visited your website before but didn't complete a conversion. It's a great way to remind them in case they got distracted and forgot to make an appointment. Plus, did you know people need at least eight touchpoints before buying something? That's why it's key to upkeep all your existing marketing initiatives and also try something new, to remind prospective clients of your spa.
Social media marketing is an important aspect of your online presence and marketing your spa. As you may have seen, Instagram Reels are all the rage right now, and for good reason — engagement can be up to 40% higher than on static posts. While keeping up with trends, remember that the most important aspect of social media is a consistent online presence with at least 3 posts a week, and Shopify recommends posting once a day for your business. To avoid only promoting yourself and your products in a straightforward fashion on your Instagram, collaborate with businesses in your area for cross-promotion, host giveaways, and work with influencers to reach new audiences!
Take Your Spa Marketing To The Next Level
Spa Trade Shows
If you're not already exploring trade shows for your spa business, this can be an awesome opportunity to take your spa to the next level. Do you service groups like bridal parties by offering facials, manicures, makeup, hair, or waxing services? Consider attending a Wedding Show in your area where you can meet potential clients and network with other providers who could become your partners and suppliers.
Stand out with a custom beautiful booth with display signs, banners, table covers, essential marketing materials, and offer a mini-trial version of a service for "sampling."
Spa Appointment Software
You're likely already using an automated booking appointment system but are you using it to its full potential? Set custom reminders, for example, every three weeks for a manicure client, appointment reminders, and send personalized emails for birthdays and special occasions. It's a special extra touch that can streamline your booking while making your clients feel special.
Custom Spa Staff Merchandise and Apparel
Another way to elevate your spa is by redesigning staff merch and apparel. Here at TPH, we can help you create branded t-shirts or embroider your logo on apparel. And don't forget to add wearable merch to your in-store and online shop so loyal customers can sport your brand while out on the town.
When marketing your spa business, remember to be consistent, reward your existing clients, always work to attract new clients, and try something new! Don't be afraid to experiment with spa marketing strategies, whether hosting an in-person event or setting up Google Ads.
Here at TPH, we work with Canadian businesses just like yours to print marketing materials like essential business cards, support your event with custom signage, and even create apparel and swag for your team. Explore our business or event essentials and get an estimate today!