posters
Put your best foot forward with high-quality, premium posters.
FIND THE PERFECT POSTER
Bring your business to life with custom print posters. Our design team is ready to help create the perfect visual to advertise your next campaign, sale, or promotion. We'll also help you determine the best format to win attention. We print for sidewalks, windows, walls, floors, and doors!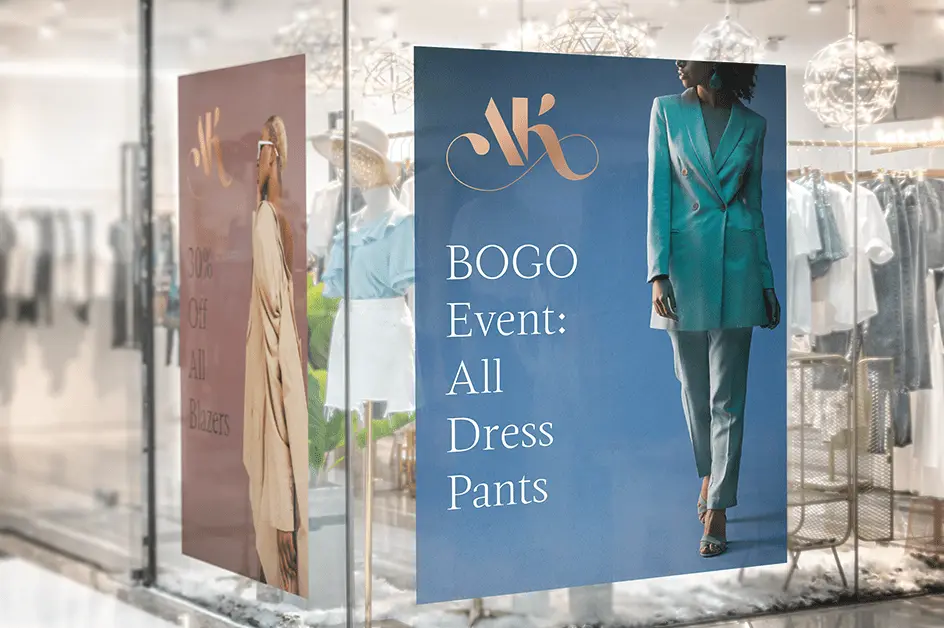 High quality, custom single-sided poster print. Available up to 60″ wide.
Additional Info

Standard sizes
11″ x 17″ / 12″ x 18″ / 18″ x 24″ / 24″ x 36″ / 36″ x 48″ / 48″ x 96″ or any size up to a max width of 60″
46 lb matte bond, semi-gloss
Lamination matte, gloss
Single-sided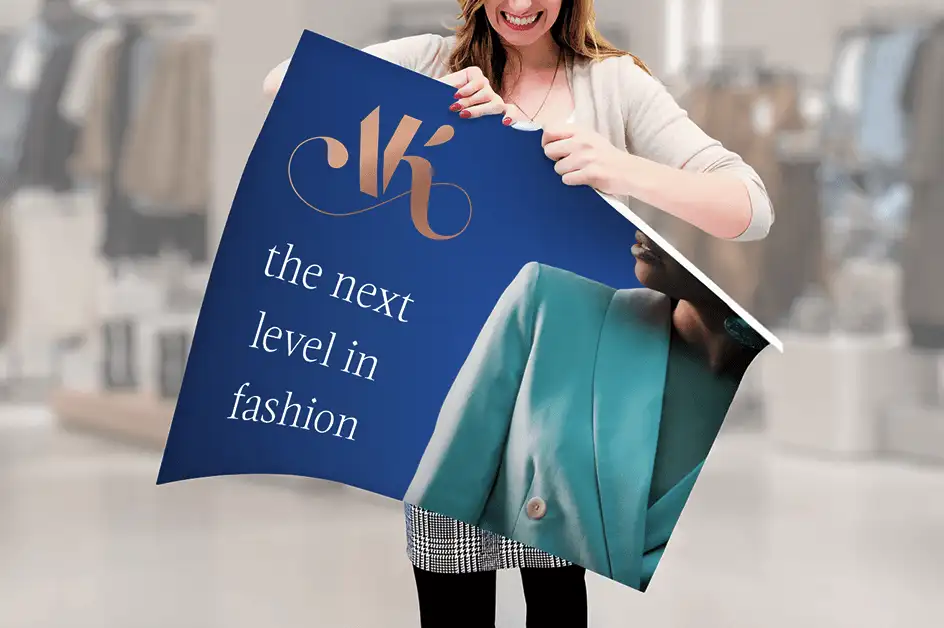 Virtually untearable, waterproof signage. Best for promotions, branding, and seasonal sales.
Additional Info

18″ x 24″ / 22″ x 24″ / 24″ x 36″ / 36″ x 48″
Single-sided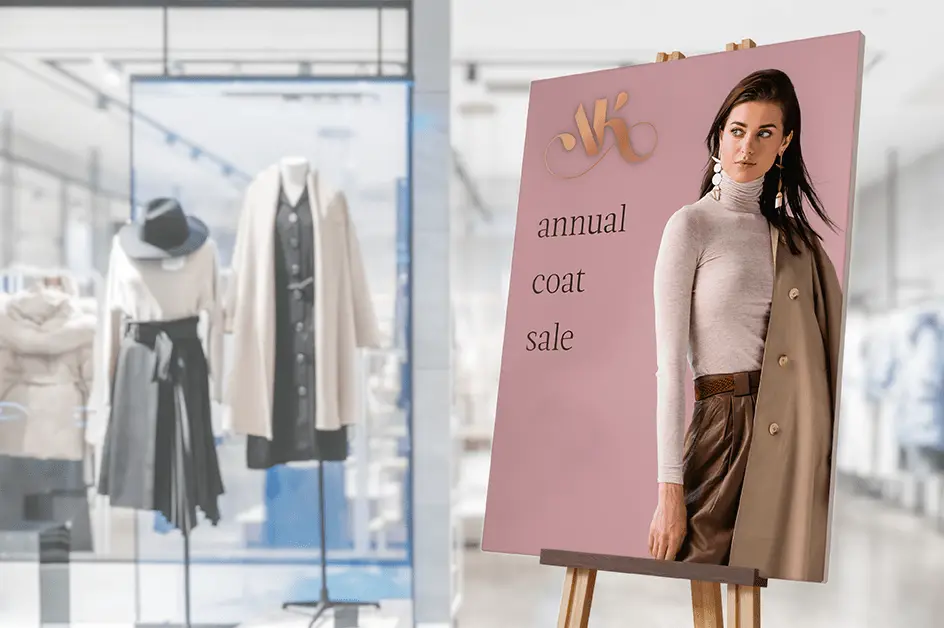 Mount your poster to a presentation board, ideal for easel display or hanging installations.
Additional Info

Indoor use only
50 pt presentation board or foam core
Single or double-sided
ADD HARDWARE
Frames come in all shapes and sizes, but not all frames are created equal. Freestanding frames are ideal for attracting attention in high-traffic areas, such as at trade shows, conferences, outside storefronts in commercial complexes, or in front of standalone retail locations. Wall-mounted frames can help you make the most of limited in-store space and ensure that your posters have maximum impact.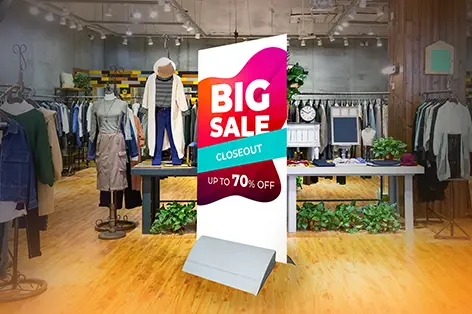 We'll mount your poster with durable vinyl to thick plastic. Best for indoor use.
Additional Info

24″ x 36″
Adhesive vinyl
10 mil corrugated plastic
6 mil smooth PVC
Double-sided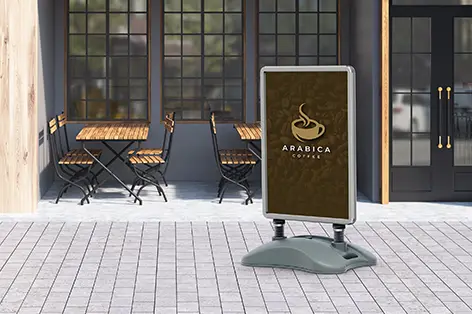 The perfect sidewalk poster that has a heavy base to withstand wind. Best for outdoor use.
Additional Info

22″ x 28″ / 24″ x 30″ / 24″ x 36″ / 36″ x 48″
46 lb matte bond
Semi-gloss
Single-sided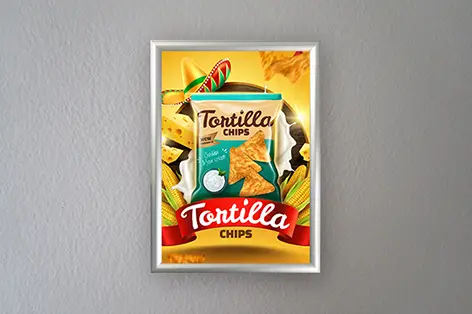 Make it easy to update your poster with this wall-mount frame. Best for indoor use.
Additional Info

24″ x 36″
Adhesive vinyl
Mounting styrene
Double-sided
BEST USES FOR CUSTOM POSTERS
You put time and effort into creating a poster- so display it in the best way possible. Choose quality display stands, mounting hardware, and framing kits. High-quality poster paper options include a matte finish, semi-gloss, and gloss. Add lamination, or opt for durable substrates to create informative, beautiful posters.
Retail Signage
Architectural Drawings
Photo Posters
Wall Art Prints
Upcoming Events
Window Signage
Sidewalk Signage
Poster-sized Photographs
Advertisements
Customization Options
Design Guidelines
For best results, submit a high-resolution PDF. Aim for 300 DPI at 100% size, and add a ¼″ bleed. We also accept high-quality TIFF, JPG or PNG files.
Frequently Asked Questions
Will you send me a proof?
Absolutely! We send digital proofs by email. If you're designing using Canva, you'll see an immediate preview.
What if I don't like it?
Customer satisfaction guaranteed, just contact us and we'll make it right.
Is this product sourced sustainably?
Can you help me design this?
How do I work with you guys if I want to be more hands-on?
We offer virtual and in-person appointments for customers who like a hands-on approach. Feel free to check out our design services.
How we make it
Discover tips and tricks. Meet our project advisors and creative designers.
Serving up fresh ideas daily @tphcanada
Meet innovative creators, find inspiration in the details, and discover outside-the-box design. Connect with us & share your amazing creations.