PostCards
Whether you're promoting a new business venture or announcing a special event, sending your own custom postcards is an effective and affordable way to get your message out.
Custom Postcards
Our professional postcard design services can help you create a postcard that is truly one-of-a-kind. For personal events or professional marketing materials, our custom postcard printing services make it easy to create a truly unique design that leaves a lasting impression.
Whether you're promoting a new business or sending out invitations for a special event, our custom postcards will help you stand out from the crowd. For a custom postcard print job of any scale, we always deliver great quality at a reasonable price.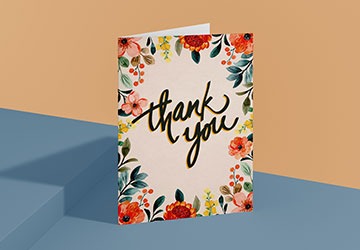 Celebrate holidays, birthdays, and anniversaries with custom greeting cards. Show your thanks for projects, business meetings or events.
BUSINESS POSTCARDS AND MUCH MORE!
We pride ourselves on being able to meet the needs of our customers–whatever they may be. Whether you're looking to promote your business through mailing services or wanting to send a personal message to friends and family, our custom postcards are the perfect solution.
You can create your own design, including your own logo, a QR code or promo code, and choose from a variety of paper stocks and finishes to create a truly unique postcard. If you aren't sure where to start, our design services can bring your vision to life!
If sourcing envelopes for direct mail, remember that, as a rule, 4″ x 6″ postcards fit well in A6 envelopes, while 5″ x 7″ match with A7 envelopes.
Direct Mail
Flyers
Packaging Inserts
Street Marketing Handouts
Wedding Invitations
Holiday Postcards
Save-The-Dates
Customer Surveys
Thank You Cards
Postcard & Business Card Design Customization Options
Your postcard design is the first thing that will catch your customer's eye – so make sure it's something special! With a little bit of extra care, you can take your postcards to the next level with some high-end finishing touches.
Consider doing something unique with the paper stock–a textured stock can add a touch of luxury, while a brightly colored postcard will definitely stand out from the crowd. For promotional pieces that truly shine, add a glossy finish to foil postcards! When it comes to making a great postcard, it's all in the details.
Postcard Designs – Product Specifications
In order to create a high-quality postcard design, it is important to start with a high-resolution file. The design file should be at least 300 DPI at 100% size in order to ensure that the postcard will print clearly. File types we accept include PDF, high-quality JPG, or PNG.
Frequently Asked Questions
Can you help me design a project?
Is this product sourced sustainably?
When do I get my order?
For online orders, expect a turnaround time of 2-3 business days. For projects with added complexity, ask us for an estimated turnaround time.
Do you ship orders?
Yes, we ship across Canada and the USA.
Will you send me a proof?
Digital proofs are sent by email upon request. If you're designing using Canva, you'll see an immediate preview.
Can I pick up my order locally?
Yes. To arrange curbside pick-up, please contact your local production centre before placing an order.
How we make it
Discover tips and tricks. Meet our project advisors and creative designers.
Serving up fresh ideas daily @tphcanada
Meet innovative creators, find inspiration in the details, and discover outside-the-box design. Connect with us & share your amazing creations.