Patio season is upon us and restaurant-goers are seeking a place to enjoy a cool drink and nice meal while socializing with friends and family. This demand of in-person diners is great news, but restaurants face ample competition in the market and it can be difficult to differentiate your location and keep customers coming back regularly. However, by implementing some creative marketing ideas, restaurants can increase their return customers and build a loyal customer base. In this blog, we'll discuss some effective restaurant print marketing ideas to build memorable experiences, community buzz, and loyal diners.
How Do You Promote A Restaurant In 2023?
Banners, Signs and Marketing Materials
One of the most effective ways to attract customers to your restaurant is by using exterior signs and OOH advertising. You can use banners, a-frames and posters outside your location to advertise your specials, events, and promotions. You can also use marketing materials like flyers, brochures, and menus to highlight your restaurant's unique offerings and showcase your brand.
Direct mail is a great starting choice for OOH advertising. Instead of relying on foot traffic passing by your location, you can run targeted campaigns to your existing customers or neighbourhood of choice. Reach consumers at home evoking the senses with something they can feel and touch.
Unlike digital ads which can be skippable and avoided, 43% of recipients either read or scan the direct mail they receive. But how do you design a direct mail ad that not only is read but acted on? We'll walk through the components of an effective restaurant ad.
What Should Be Included In A Restaurant Ad?
When designing your banners and marketing materials, make sure to keep your target audience in mind. Use language and images that will resonate with them and make them want to visit your restaurant.
Prioritize visual storytelling with appetizing, professional photography that makes the food and drinks jump off the page. For instance, colourful meals are not only eye-catching, but the colour also drastically affects how we perceive taste. Colour can fool our taste buds with our brains associating stronger flavours with more vibrant drinks and dishes. Apply this to your marketing by choosing colourful meals.
You should also include a personal element, like acknowledging their location or name with varied printing. This shows that you've taken the time to relate to your target audience which makes people feel seen and understood.
Most importantly, you'll want to have a strong call to action. Try including your contact information, a limited-time offer, or asking to book a reservation or view your menu. For instance, perhaps you want to remind your target audience to book a reservation for game day or date night well in advance. These kinds of timely, thoughtful reminders straight to their mailbox can keep your location top of mind year round.
How Do You Attract Customers to Your Restaurant?
Loyalty Programs
One of the best ways to retain customers is by offering loyalty programs. You can promote this through a loyalty card or app, where customers earn points for each purchase they make. These points can be redeemed for free meals, discounts, or other rewards. Customers will be more likely to return to your restaurant if they know they are earning rewards for their purchases.
Loyalty cards can easily be created with business cards to be punchable, stampable or signable. Connect with a TPH Manager for expertise on the best loyalty card for your business.
Social Media Marketing
Social media platforms like Facebook, Instagram, and Twitter can be powerful marketing tools for restaurants. By regularly posting high-quality pictures of your dishes, promotions, and special events, you can keep your customers engaged and informed. Encourage customers to post pictures of their meals, tag your restaurant, and share their experiences on social media.
You can help motivate people to share your restaurant on social media through contesting & partnerships. For instance, you could offer the chance to win coveted sports apparel or event tickets for anyone who tags your restaurant on their Instagram story.
Consider partnering with local businesses that complement your brand without competing with it. For instance, a sports bar may partner with a sports retailer or apparel company for giveaways. Whereas a more upscale restaurant may choose to partner with a local flower shop or spa for a luxurious giveaway.
Email Marketing
Another effective marketing idea is to build an email list of your customers and regularly send out newsletters or promotional emails. Use this platform to offer discounts, promote special events, and share new menu items. Additionally, you can send personalized emails to customers on their birthdays or anniversaries, offering them special discounts. This is a great way to differentiate your brand from your competition by going above and beyond for your customer base.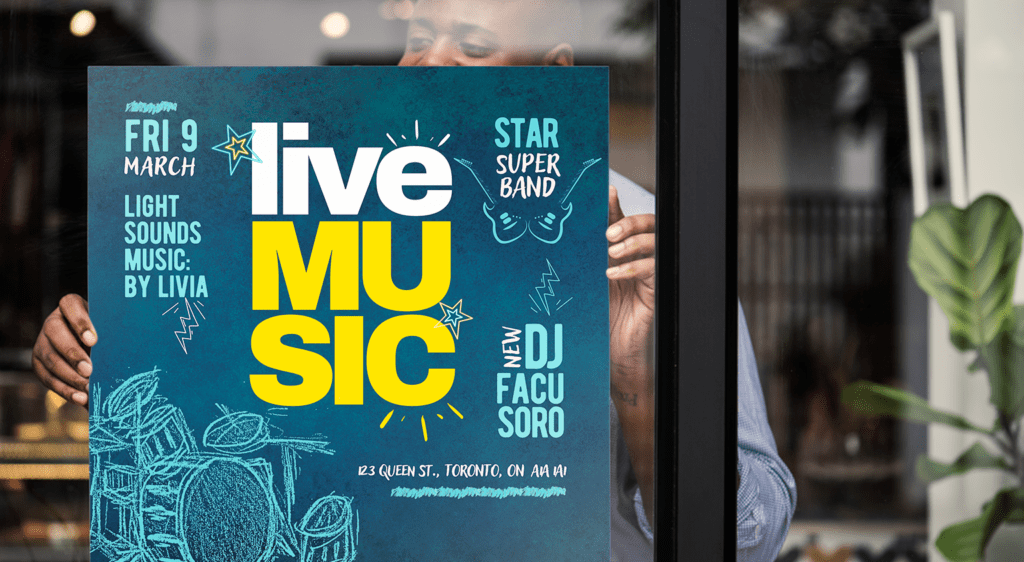 Posters
Posters are another great way to promote your restaurant and its offerings. You can use posters to advertise your menu items, promote your specials, and highlight your restaurant's unique ambiance. You can also use posters to showcase customer reviews and testimonials, which can help build trust and encourage repeat business.

When designing your posters, use high-quality images and make sure your message is clear and easy to understand. Less is more – so use that white space to draw attention to your concise message.
Patio Signage
If your restaurant has a patio, make sure to use signage to promote your outdoor dining options. You can use signs to advertise your happy hour specials, showcase your drink menu, and highlight your restaurant's outdoor ambiance.

When designing your patio signage, make sure to use weather-resistant materials that can withstand the elements. You can also use lighting and other decorative elements to create a welcoming and inviting outdoor space. Your TPH Manager can help with recommending the right long-lasting signage to withstand the elements.
Drink Specials
Offering drink specials is a great way to encourage repeat business at your restaurant. You can offer discounts on certain drinks during happy hour or create signature cocktails that are only available at your restaurant.

When promoting your drink specials, make sure to use eye-catching signage and marketing materials. You can also use social media to share photos of your drinks and encourage customers to come in and try them out.
Events
Hosting events is a great way to bring new customers into your restaurant and keep your regulars coming back. Attract guests by hosting live music nights, trivia nights, or even special-themed dinners.

When promoting your events, make sure to use social media, email marketing, and other marketing channels to get the word out. You can also use signage and marketing materials to promote your events in-store.
For print to promote your event and signage to build excitement on the day of, view our restaurant marketing solutions and get in touch with your local TPH team.
In conclusion, there are many restaurant advertising ideas that can help you attract new customers and keep your regulars coming back. By using a combination of print materials, digital marketing strategies, and enticing offerings, you can create a comprehensive marketing strategy that drives traffic to your restaurant and keeps your guests coming back for more.