Trade shows give your business an opportunity to engage face-to-face with customers, build partner relationships, and generate brand awareness. Making the most of a trade show means balancing many elements with a well-planned checklist. We'll walkthrough trade show ideas using our beauty brand, Guinevere.
We've created a planning timeline to leave you feeling confident and excited to succeed at your next show.
Your Trade Show Checklist
4-6 Months Out
– Build your budget
First, figure out your hard costs such as rentals, exhibit space, booth display, registration, marketing, transportation, and giveaways. Your budget will determine how much flexibility you have with refreshing your booth, the variety of marketing materials and tactics, and potential contesting opportunities.
– Touch base with organizers
Next, be in touch with show organizers early and secure your ideal exhibit space. Booking early allows you to choose a booth located in high-traffic areas and in some cases, secure early-bird pricing. Find out all show deadlines to add to your list.

– Set your goals
Determine your primary goal of the show – is it to build relationships with existing customers? Are you searching for new customers? Finally, are you looking to establish connections in the industry? Prioritize what you want to get out of the show and define your ROI.
For beauty brand, Guinevere, their focus will be on brand awareness & driving sign-ups to their email list.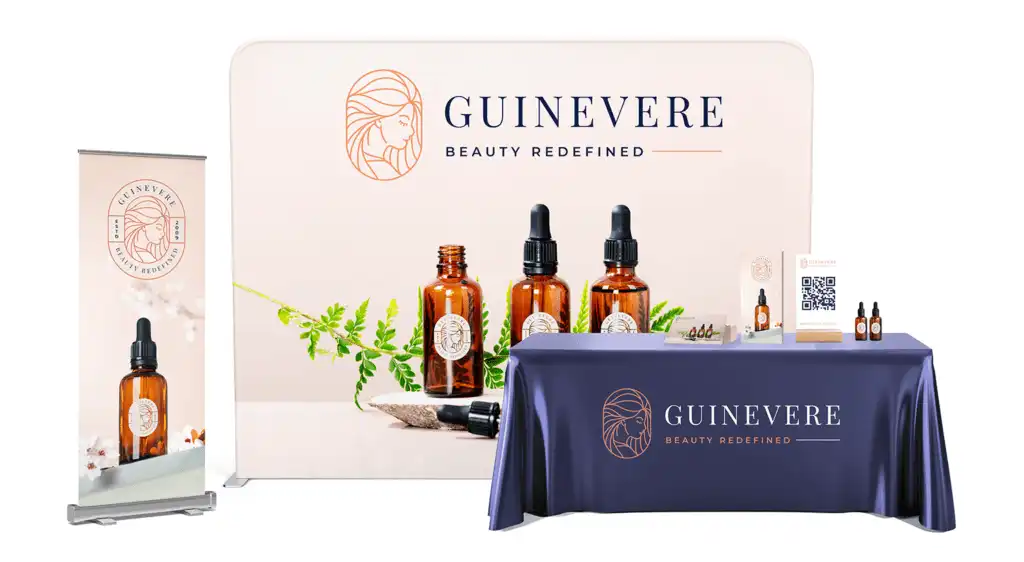 3 Months Out
– Create your trade show booth
Whether it's your first show or your thousandth, do some inventory of what you need to stand out from the competition at the show. For your booth, let's break down your checklist based on whether you're a first-time trade show exhibitor or a seasoned expert.

For first-timers
Start by nailing the basics with trade show booth essentials. It's standard for booths to have banners, backdrops, tables & branded tablecloths or runners, and flags. To help get you started, browse our Trade Shows & Events Guide.

For essential oils brand Guinevere, they've selected a branded table cover, a lightweight retractable banner for travel, and a prominent backdrop to stand out from the competition. They've also created brochures, business cards, and tabletop displays to engage with trade show attendees.

For seasoned exhibitors
Run through your existing trade show materials and audit for wear and tear. Once you've ensured your trade show booth & displays are scuff-free, now might be the time to think about adding a wow factor – custom displays, team apparel, and more. We can assist with uniting your team with branded t-shirts, collared shirts, hats and name tags. Get inspired with our trade show catalogue.
One way to refresh your approach to your trade show booth is to consider new booth engagement tactics – giveaways, contesting, and games. Use a custom display to attract attention. For more information on creating a custom display, contact your nearest TPH Manager.
2 Months Out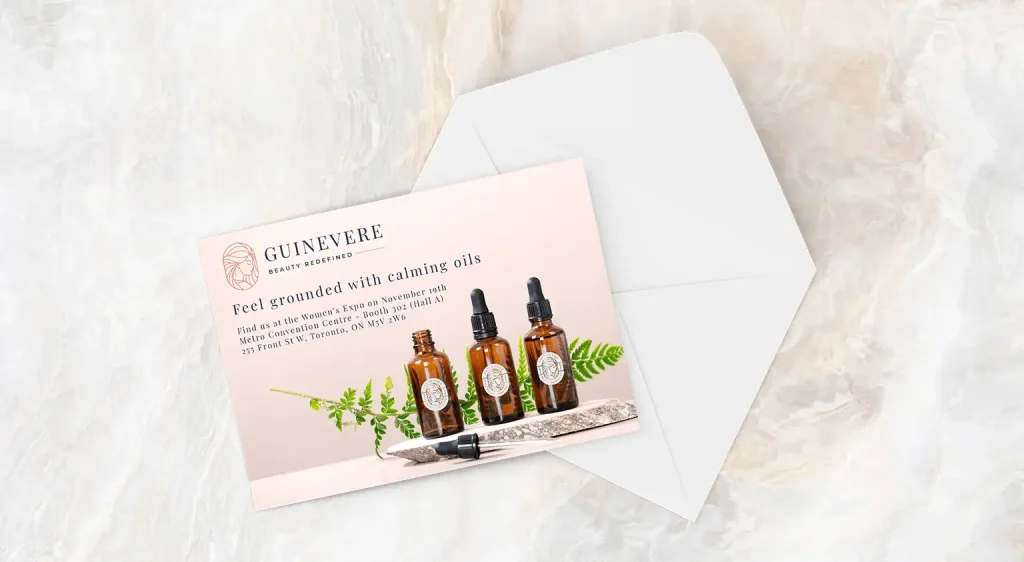 Touch base with attendees
Make your brand top-of-mind with show attendees and existing customers. Let your audience know you're attending the show in advance on social media, email marketing, and direct mail.

Guinevere chose to reach out to existing customers in advance via direct mail. They created a postcard focused on their most popular product line. They gave their booth location so that customer champions would seek them out at the show.
To get started on your next direct mail campaign, we make it easy by handling the design, list, and mailing. As a Canada Post Smartmail Partner™, we can guide you on neighbourhood mail, postal code targeting, personalized mail and more.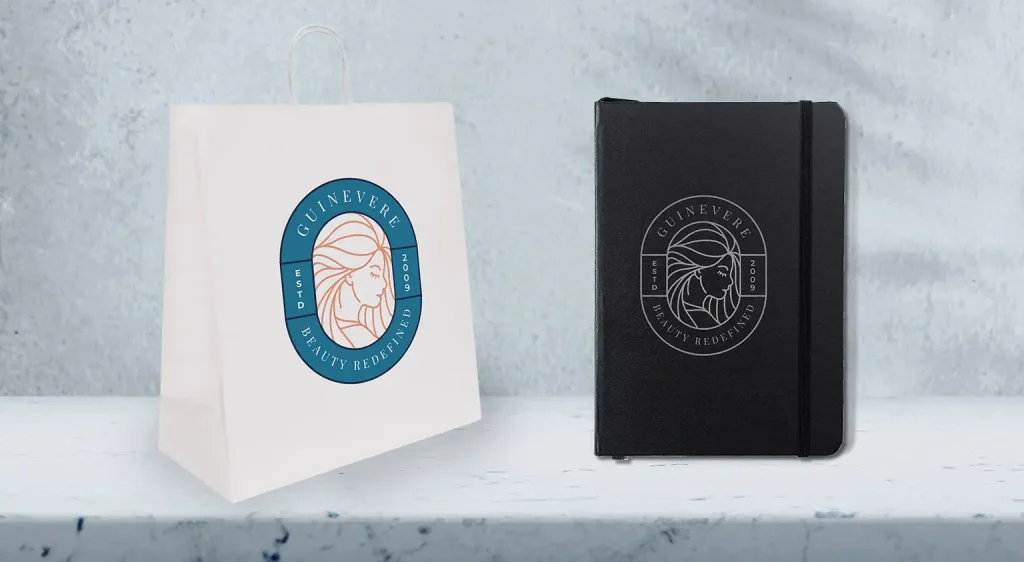 Plan booth giveaways
Choosing to do booth giveaways or contesting can ramp up the traffic to your booth. Make your trade show booth the buzz of the show by thinking of enticing handouts such as branded notebooks, pens, and product samples.
Guinevere chose to create branded swag bags to give away to anyone who signs up for their email list. Inside, they created a branded notebook and samples of their essential oils.
Try a giveaway using your top products and support that giveaway with your pre-show marketing efforts – social posts, email and mailing campaigns.

For branded swag ideas or marketing materials to promote your contest, visit tph.ca.ca/tradeshows.
4-6 Weeks Out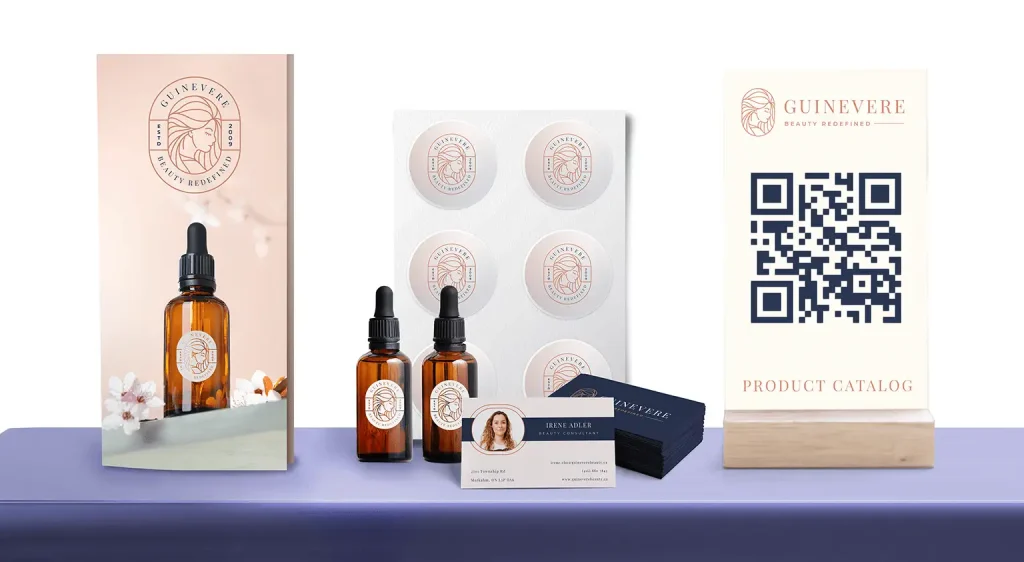 Create in-booth materials
Finally, make sure you're stocked on in-booth displays such as tabletop signs, business cards, and brochures. Merge your online presence seamlessly by pairing your displays with callouts to your social media and website.
Guinevere chose to add QR codes to their displays to drive traffic to their product catalogue. Once on their website, attendees will be prompted to sign up for their email list. Moreover, anyone who signs up for their email communications will be given a free swag bag (while supplies last). They successfully are driving brand sampling and long-term engagement with their company.
You Can Do This
Trade show planning requires a lot of dedication, but forward-planning will help make the day a rewarding experience. Remember, you don't have to do this alone.
Feel free to come to us for support with design, apparel, marketing materials, booth signs and displays, giveaways and direct mail campaigns. Finally, don't forget to explore our catalogue for our recommendations.
Ready to create? Contact your TPH Manager for advice to make your event a success.
Love This Post?
You may also like:
5 Ways To Be Remembered At Trade Shows
Post-Show: Stay In Touch After Trade Shows