You've decided to attend an upcoming trade show. What next? You need to finalize strategies for how your brand can stand out with your trade show booth, engage with attendees, and make the most of attending the show.
We're going to use the travel & excursion company, 'Ascent ' to show you firsthand ways to be remembered at your next trade show or event. We'll get you thinking of fresh ideas with 5 opportunities to stand out and engage with your ideal customer.
1. Nail your trade show booth aesthetic
Make sure your booth reflects your brand. This means replacing items with wear and tear and choosing premium items to reflect product quality. A polished booth can build brand trust with attendees.
For 'Ascent', they've chosen to start with a backsplash that captures that, 'reaching the top of the mountain' feeling. Their booth requires eye-catching visuals of risk-taking adventure. They added a flag and banner to capture the excitement of their excursion packages. They used a table runner to tie together their visuals with a focal point on their logo.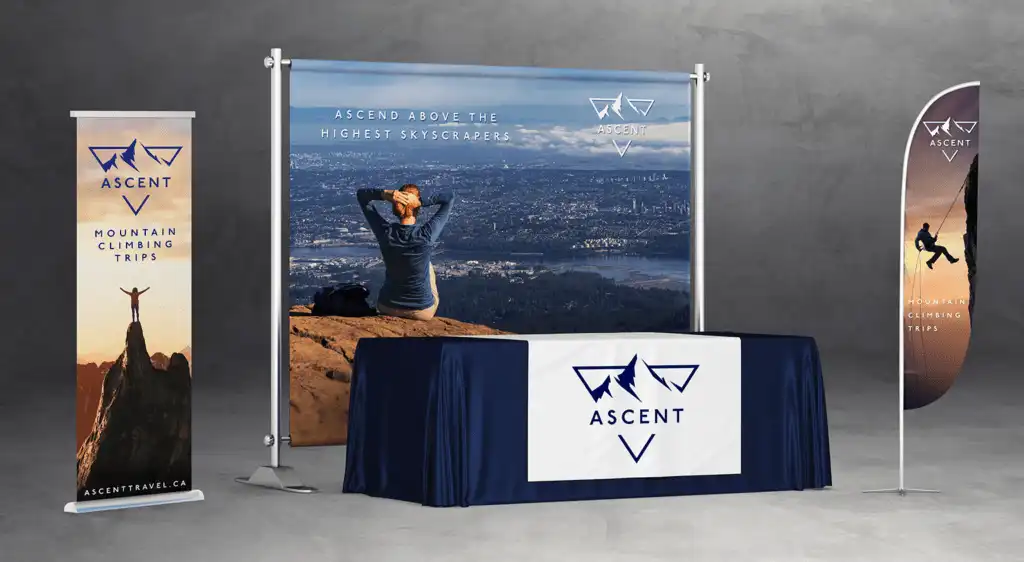 Even if you're not a travel brand, attract attention using trade show staples such as backdrops, banners, and flags. Pair your digital marketing with your physical booth through CTAs such as your website, QR codes, and enticing offers. Later in this post, we'll dig into ideas to have attendees excited to engage with your brand at the show.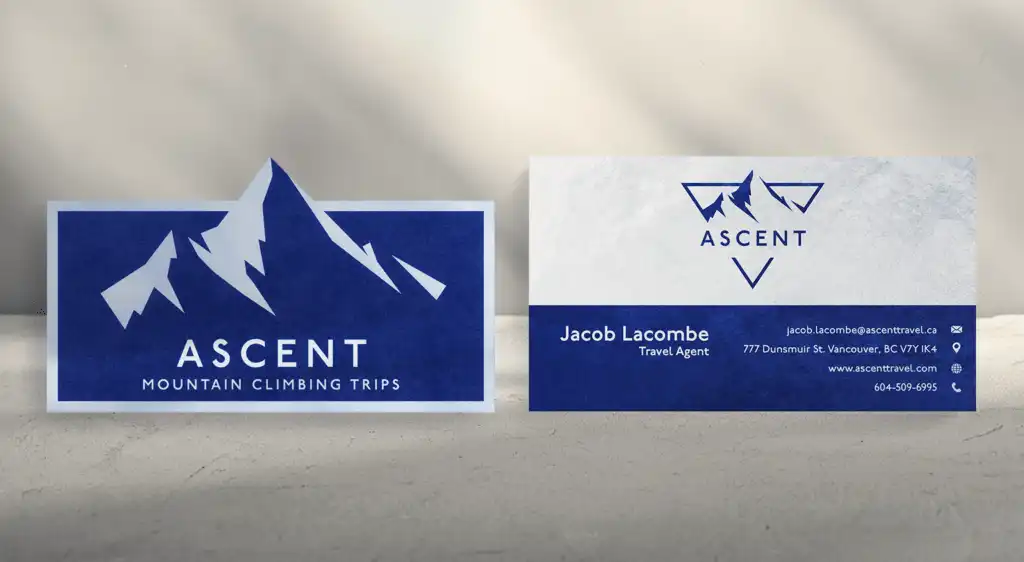 2. Business Cards
A great way to be remembered at trade shows is to have a unique business card that outdoes your competition. Some ways to achieve this are with custom shapes – circle or square business cards, or custom cuts. Embossing or debossing can make touching your card a unique experience. Gold or silver foils can attract the eyes – giving your brand a feeling of luxury.

Travel and excursion company Ascent chose to try custom-cut business cards in the shape of mountains and silver foils to connote mountain ridges. Unique business cards leave people engaging with your business card longer, like a piece of art.

Be prepared and come ready to hand out a large number of business cards. Running out of cards is a bad look. Most people bring 200-500 business cards. For design assistance, recommendations or reordering business cards, shop online or contact us for a quote.
3. Contesting
If you want people to stop at your booth, you need to pique their interest. A great way that brands attract attention at trade shows is by giving back to attendees. Use contesting to generate new leads to keep in touch with after the show. It's also a tactic to get people to stop and have a conversation with your brand ambassadors.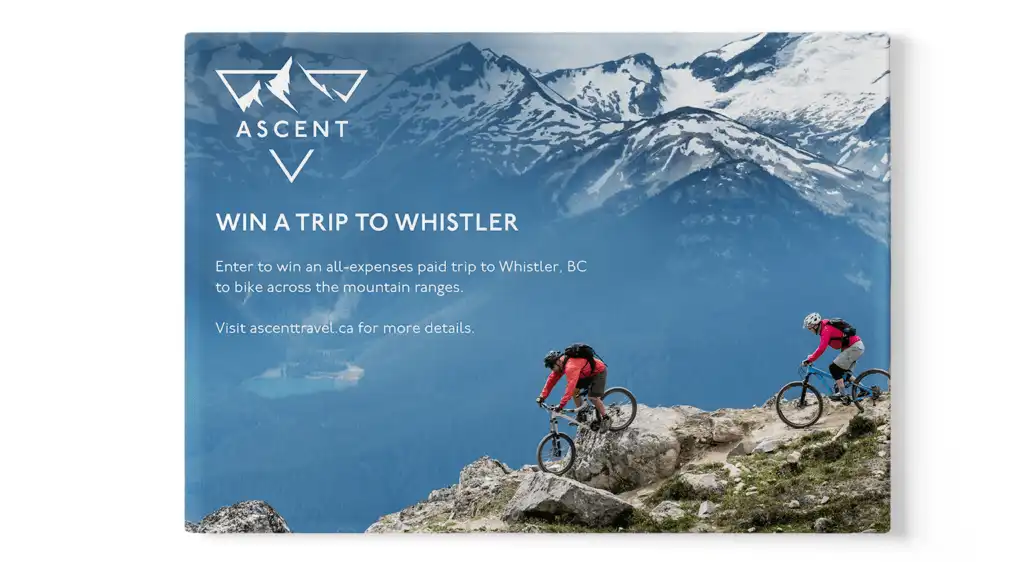 Ascent chose to promote a contest to win a trip to Whistler. The prizing was a perfect fit for them as the giveaway would build excitement about their existing offering. Ascent used the contest as a way to attract people to their booth, build relationships, and gather email addresses. They promoted it on posters, postcards, and banners at their booth.

For assets to promote a contest at your trade show, browse our trade shows and events page or contact us for a quote.
4. Takeaways
Takeaways at your booth can include giveaways of your product, handout offers, swag bags and more. To entice people, think about something that would be useful.

Try branded tote bags, custom water bottles, or a postcard offer.

Ascent chose to offer attendees a, 'Book 1 mountain excursion, get a second for 40% off.' As many of their customers book in groups already, the offer was enough of a push to encourage those in the consideration stage of their marketing funnel to act now.
5. Stay In Touch
Don't let newfound relationships grow cold. Have a plan for how you'll stay in touch with show attendees and even those who missed the show. For instance, add the emails from your contest or lead-generating tactic to CRM and add them to an email flow. Be sure to thank them for entering the contest and offer other resources related to your brand – blogs, product recommendations, or tips and tricks.
You can also follow up with attendees via direct mail – flyers or postcards. For hot leads or newfound partner relationships, consider sending a thank-you package.

Still have questions?
We prepared a pre-trade show checklist that will have you breathing a sigh of relief. Feel organized with our recommendations of where to start 4-6 months out, up to a few weeks before the show.
Help is here when you're ready! We can assist you with design support, trade show booth recommendations, and creating your signs, displays, marketing materials and so much more.
Love This Post?
You may also like:
Get started: pre-trade show checklist
Post-show: stay engaged after the show