Your small business has many exciting advantages over big box stores and Amazon. Neighbours who shop locally support the community by keeping tax dollars and business revenue reinvested close to home. They rally community support around your business by sharing this strong message: shopping local strengthens local economies, creates more jobs and sustains a vibrant, buzzing neighbourhood. What better selling points to make your business boom than by embracing your identity on Small Business Saturday.
About Small Business Saturday
Small Business Saturday is being celebrated across Canada on November 26th, 2022. Brought to you by the Canadian Federation of Independent Businesses (CFIB), #SmallBusinessEveryday is a rallying cry that now more than ever, small businesses need our support. From CFIB, "Small businesses are the heartbeat of our communities. They bring great products to your town, create jobs for your friends and neighbours and sponsor your kids' sports teams. But they're struggling in the face of COVID-19."

In preparation for Small Business Saturday, we've identified 6 ways for your brand to stand out – from retail stores, to spas, to ECommerce brands. Plus, we've gathered valuable resources from CFIB to help get the word out including a planning checklist, marketing materials, and digital assets.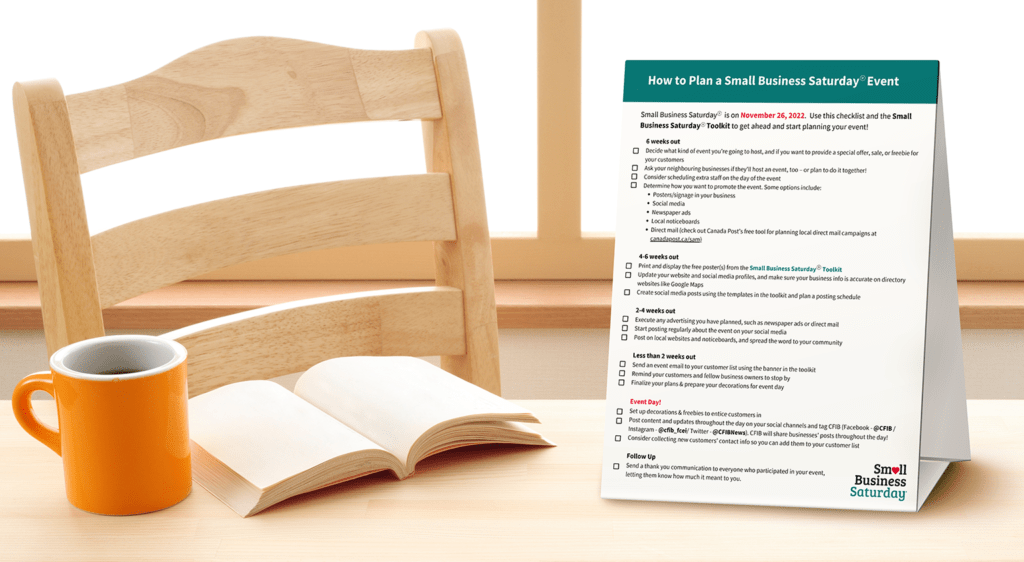 1. Create Your Checklist
Breathe a sigh of relief by narrowing down important timelines for marketing materials, promotions, email campaigns, and storefront decor. Start by connecting with other small businesses in your community and making them aware of the opportunity. The more awareness that you can generate early on, the more likely that you're able to build a buzz around town.
Get started by planning for the big things first – signage, event decor, sales or promotions, and extra staffing. About 2-3 weeks out, execute your email campaign and social posts.
To help with your timeline planning, CFIB has created a small business toolkit and event checklist. Download your free checklist here.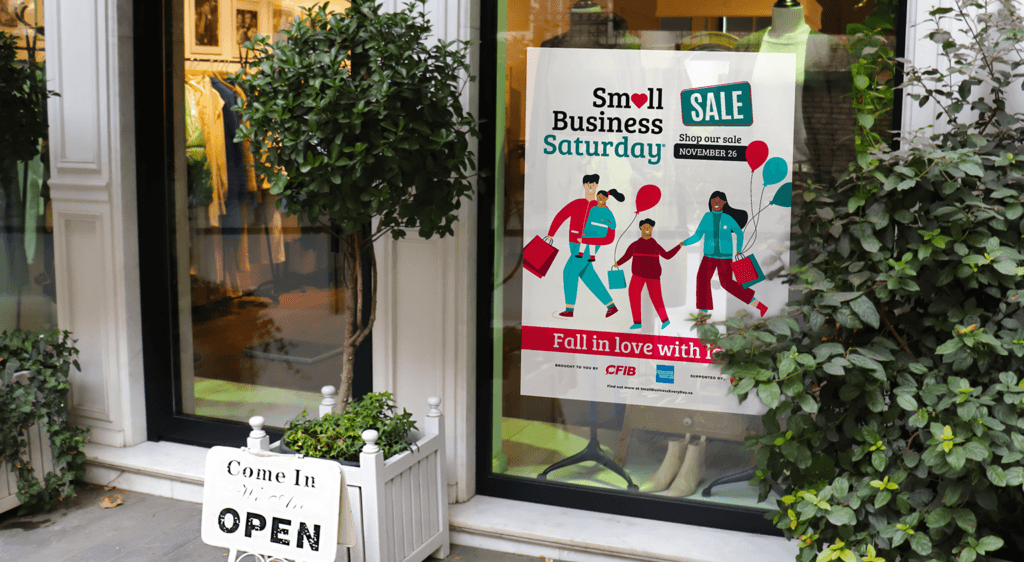 2. Decide On Special Offers or Sales
Start generating some foot traffic! Plan ahead of event day with ideas to build excitement around your location. Think of an enticing offer that allows you to collect leads' contact information. For example, create a contest and ask customers in-store to scan a QR code and enter to win.

Start brainstorming sales, BOGO deals, and freebies to share on Posters, A-Frames, and retractable or lifesize Vinyl Banners.
Think about items that you can include with orders – like a thank-you Postcard or return-to-store offer. As business owners know too well, securing repeat customers is significantly easier than attracting new people.
Get started with custom marketing materials by contacting your TPH Manager or shop online.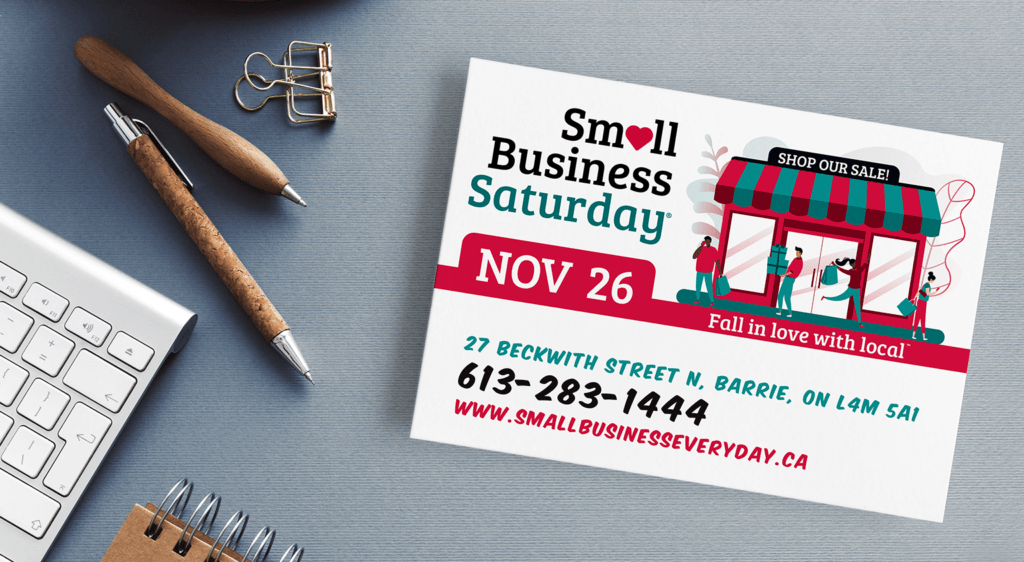 3. Create A Direct Mail Campaign
Start some buzz in the neighbourhood – share the event with Postcards or Flyers. Create a direct mail campaign to make the community aware that their support is needed – get your free Small Business Saturday direct mail template below. Alternatively, draw people in by promoting your sales, contesting or giveaways. For online-only businesses, drive sales with a one-day-only offer. 

Download your free, print-ready direct mail template from CFIB. The template has been formatted for you to personalize it with your logo. Or, connect with TPH and our team of designers across Canada can help design yours. 

TPH is a Canada Post Smartmail Partner™ which means we make it easy for you by handling the design, list, and mailing. We can guide you on neighbourhood mail, postal code targeting, personalized mail and more. You can get started on your direct mail campaign by contacting your nearest TPH Manager.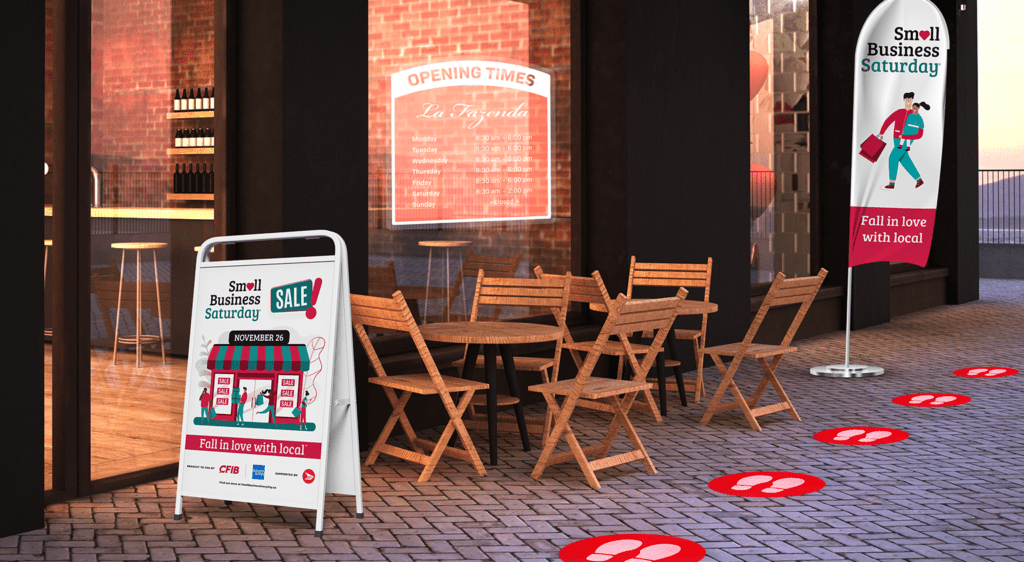 4. Update Your Storefront Decor
Drive people in-store with engaging merchandising and storefront displays. Get creative with your storefront window by adding seasonal decals, enticing sales, and an A-Frame to catch those passing by. If you're a retail location, add signage that compliments your best merchandise on display. For cafes, try advertising your free WiFi with a window decal. 

Drive traffic and sales by using Posters, Signs and Decals to share your seasonal sales or one-day-only Small Business Saturday offer. If you can spare a staff member, have them stand outside and hand out Postcards or Flyers to bring in more traffic. 
Get started on signage by contacting your nearest TPH Manager or shop online.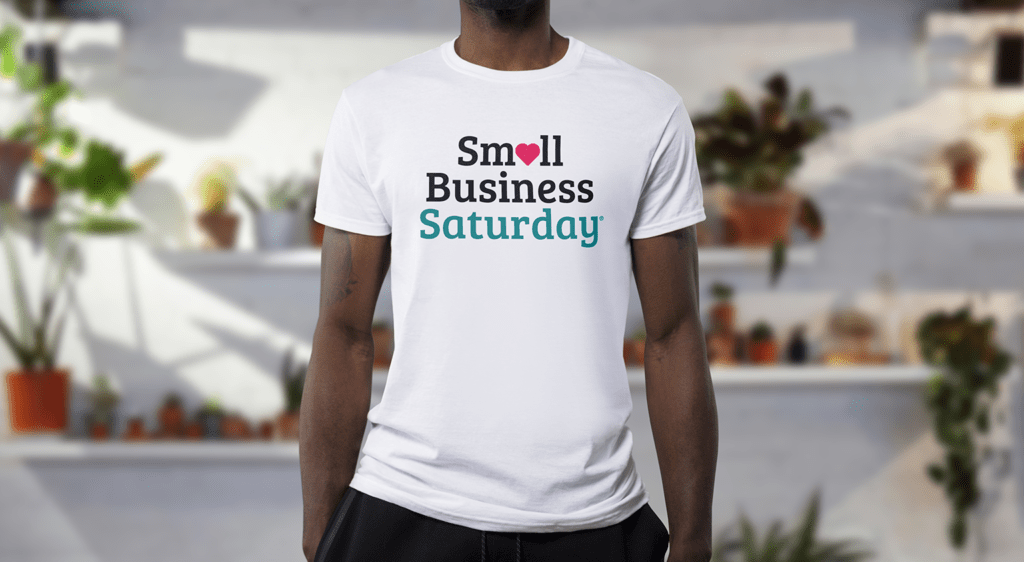 5. Create Custom Branded Apparel
Use custom apparel to make staff walking billboards for your business. Unite your team with branded apparel – Sweatshirts, T-Shirts, embroidered Aprons or Toques. Event apparel excites your staff and is eye-catching to potential customers. 

Try creating branded 'Small Business Saturday' T-Shirts weeks leading up to the event for staff to wear in-store for added buzz. Give customers a reason for a return visit on the event day.

For purchases over a certain amount, try giving away branded Tote Bags or Water Bottles. We can embroider or print your logo on just about anything – including boxes, bags or drinkware. 
For all types of branded Apparel, Tote Bags, and Brand Swag contact your TPH Manager or shop online.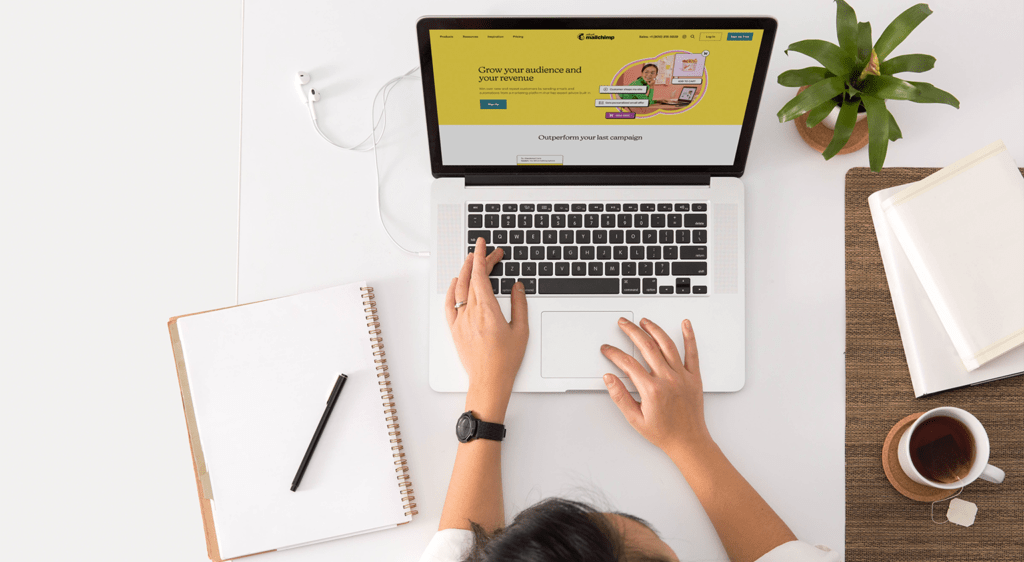 6. Share On Email & Social
Tell your customer base, followers and subscribers about the event. Reach out a few weeks in advance to request community support. Set up an email drip campaign to let customers know about Small Business Saturday weeks before the event, a reminder the day before, and add an event follow-up thanking the supporters.

Share the event on your social channels. Keep the engagement going with day-of photos of the event – set-up, staff and turnout.
CFIB has made it easy for small businesses to promote the event with free digital assets. Download your Small Business Saturday email header and social posts.
You're Ready To Stand Out
Your small business is prepared to attract customers in-store or online, drive revenue, and welcome community support. Here's to making Small Business Saturday a successful annual event.