International Women's Day is approaching on Wednesday, March 8th. This global holiday is a chance to celebrate women's accomplishments, resilience and positive impact on society. In honour, we're going to share our favourite quotes on International Women's Day and notable charities and events to consider supporting.
This year's campaign is #EmbraceEquity which advocates for gender equality, challenges stereotypes and raises awareness of discrimination.
If you want to support IWD with your business, try partnering or donating to a women's charity, attending webinars, or hosting your own event with your internal teams. For example, consider supporting:

– Canadian Women's Foundation: Canada's public foundation that addresses gender-based violence, economic security, girls' empowerment, and inclusive leadership. They are hosting a Corporate Citizenship for Gender Equality event on March 8th, 2023.

– Native Women's Association of Canada: An Indigenous organization that supports the social, economic, cultural and political well-being of First Nations, Métis and Inuit women.

– Black Women In Motion: Toronto-based organization that supports the advancement of Black women, girls, nonbinary and gender-non-conforming survivors of violence and trauma.
As many Canadian businesses will be hosting events for International Women's Day, these quotes from influential Canadian women can be used on social media, event handouts and personalized cards or promotional posters. To get started, contact your local TPH for #IWD empowering print.
Accordingly, let's celebrate with our favourite quotes for International Women's Day from inspirational leaders.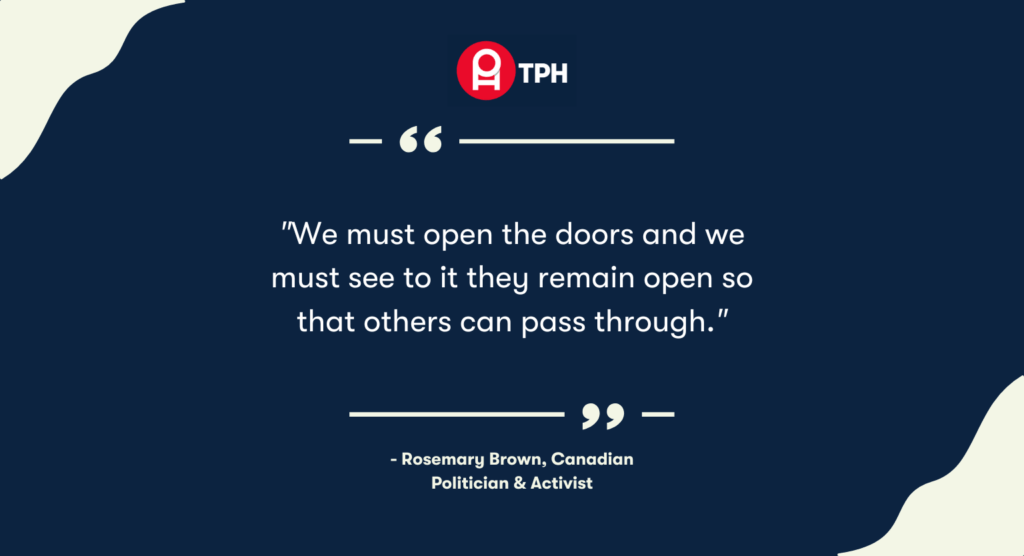 Top Quotes On International Women's Day From Canadian Women
1. "Until all of us have made it, none of us have made it".
– Rosemary Brown, politician.
2. "Nothing's impossible. It's what you decide your limits are."
– Lori Ann Muenzer, Olympic Gold Medalist
3. "Never retreat, never explain, never apologize – get the thing done and let them howl!"
– Nelly McClung, activist and author

4. "When I was growing up, you didn't know there was a women's national team. Now girls grow up dreaming of playing for Canada."
– Christine Sinclair, Canadian professional soccer player

5. "We must open the doors and we must see to it they remain open so that others can pass through."
– Rosemary Brown, politician, activist

6. "Sisterhood is powerful."
– Rosemary Brown, politician, activist
We hope these Canadian women have left you feeling inspired. As IWD is a global holiday, here are a few more influential quotes from female leaders around the world.
Inspiring International Women's Day Quotes Around The Globe
1. "I alone cannot change the world, but I can cast a stone across the waters to create many ripples."
– Mother Teresa, Activist

2. "One of the criticisms I've faced over the years is that I'm not aggressive enough or assertive enough, or maybe somehow, because I'm empathetic, it means I'm weak. I totally rebel against that. I refuse to believe that you cannot be both compassionate and strong."
– Jacinda Ardern, 40th Prime Minister of New Zealand
3. "There is no limit to what we, as women, can accomplish."
– Michelle Obama, Former First Lady of the United States
4. "I do not wish women to have power over men, but over themselves."
– Mary Shelley, Novelist

5. "If you don't see a clear path for what you want, sometimes you have to make it yourself."
– Mindy Kaling, American Actress, Comedian, Screenwriter and Producer
Join us in celebrating #EmbraceEquity as we advocate for social, economic, cultural and political progress.

Throwing an International Women's Day Event?
TPH is here to support businesses hosting celebratory gatherings for staff or public-facing events to raise awareness for gender equality.

For branded giveaways and promotional event materials, contact your local TPH to get started.