When you're organizing an event, invitations, décor, flowers and catering are top of mind but you might need a little more to create a memorable event that captures the imagination.
"A little more" is what we did to help elevate Milli: A Celebration of Style, an exhibition celebrating 50 years of fashion retail by trailblazer, Milli Gould, at the Art Gallery of Hamilton (AGH). The show, curated by Nolan Bryant, showcases "the business and artistry of retailing".
The show needed to capture Milli's artistry with the same attention to detail that she had for ensuring every couture or ready-to-wear fashion ensemble was perfect for her clients.
Here's a few ways our Hamilton location, working with the TPH network of locations across the GTA, helped stitch together the perfect pieces, meeting tight deadlines every step of the way, to help elevate ordinary to mirror an extra-ordinary woman. From the floor to the walls, across every custom-printed piece, and using a wide range of materials, we helped ensure each element had the Milli creative, luxurious flare.
Impactful Displays
In an art gallery (and many spaces), you can't always affix signage to walls, so we helped create a series of large displays using self-adhesive vinyl to bring the space to life. For this event, we produced self-adhesive vinyl murals, including:
Newspaper Wall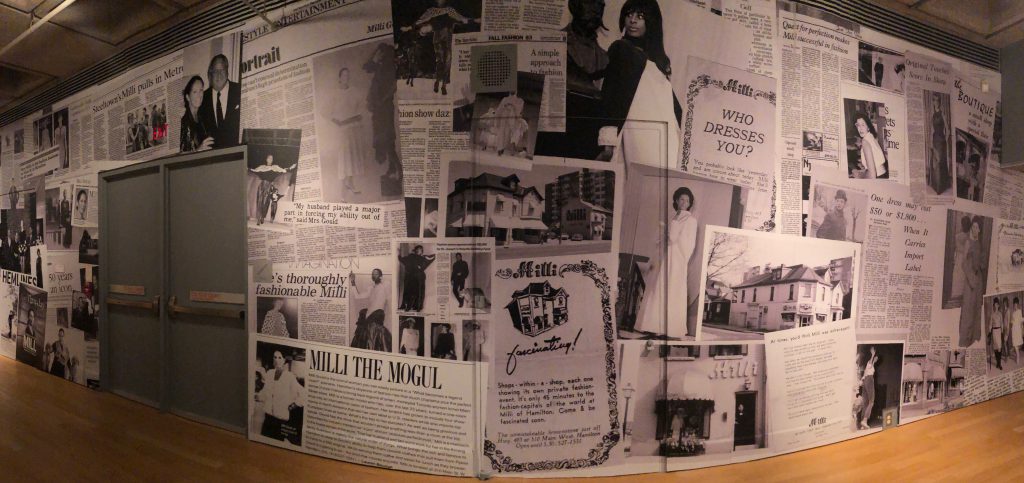 We scanned articles highlighting 50 years of newspaper coverage at the highest possible resolution to get the best possible image quality for the main, large display wall. We also created a ¼ scale template of the wall so the designer could easily visualize the space and ensure the layout didn't cover something that we couldn't. Being time sensitive, there was no time to reprint the display if an error was made so precision in the design was mission critical.
Dress Wall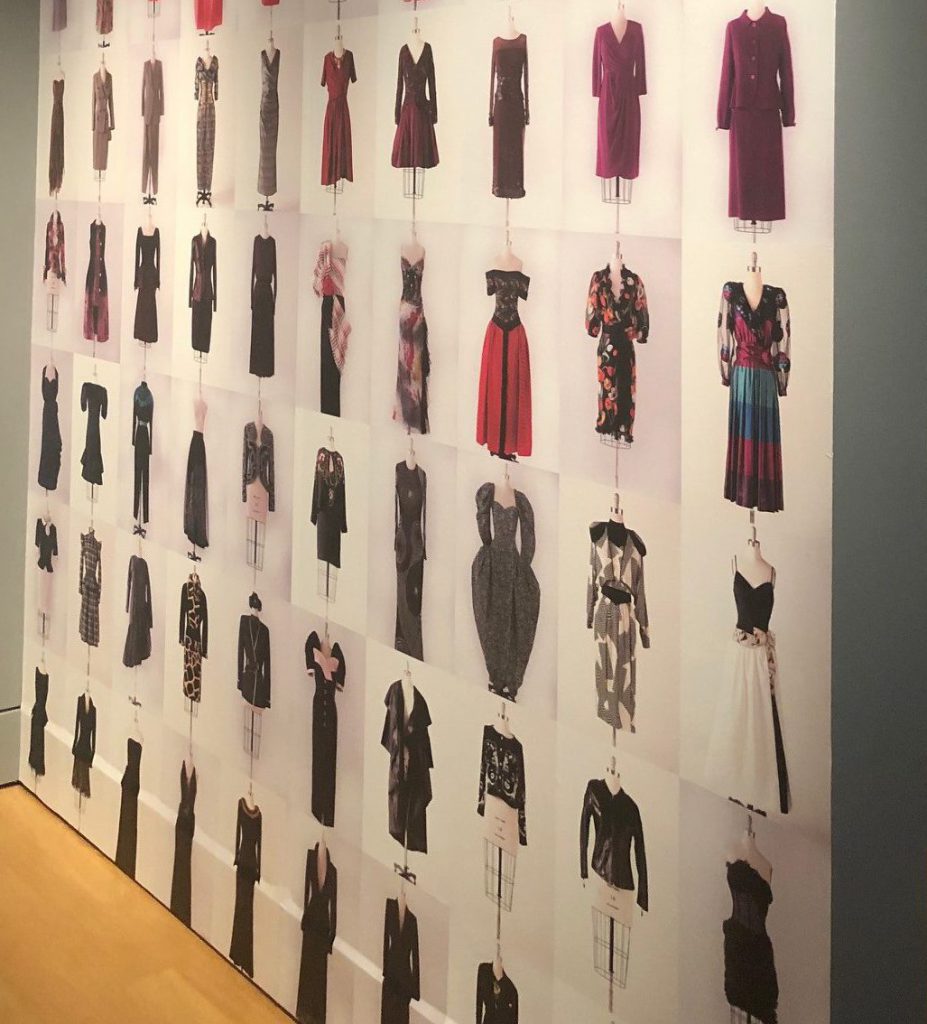 Although smaller than the newspaper wall, this display showcased the dresses and ensembles that are a hallmark of the Milli esthetic. We helped ensure accurate color reproduction with clean, clear images to show the luxurious fashions in picture-perfect self-adhesive vinyl panels.
Nothing Boring About These Labels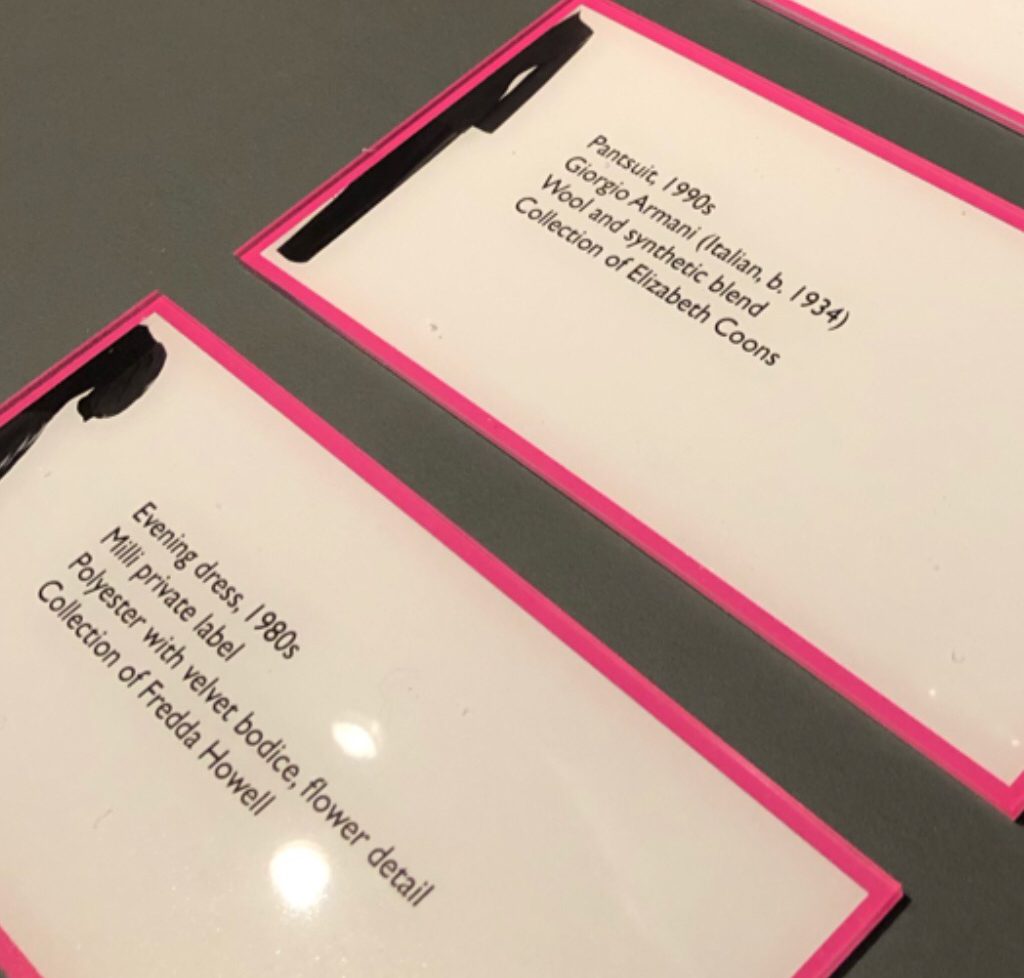 The AGH would normally print a small label containing information on each item on display but a fashion exhibit like Milli's needed something a little more high-end. Working with the client, a 1/8-inch thick acrylic "gallery label" with a border painted Milli pink was chosen, which Milli and curator Nolan Bryant loved. With little time to spare before the exhibit opened, 90 acrylic labels were created and delivered personally to the gallery so they'd be on site on time for the opening.
No Ordinary Invitation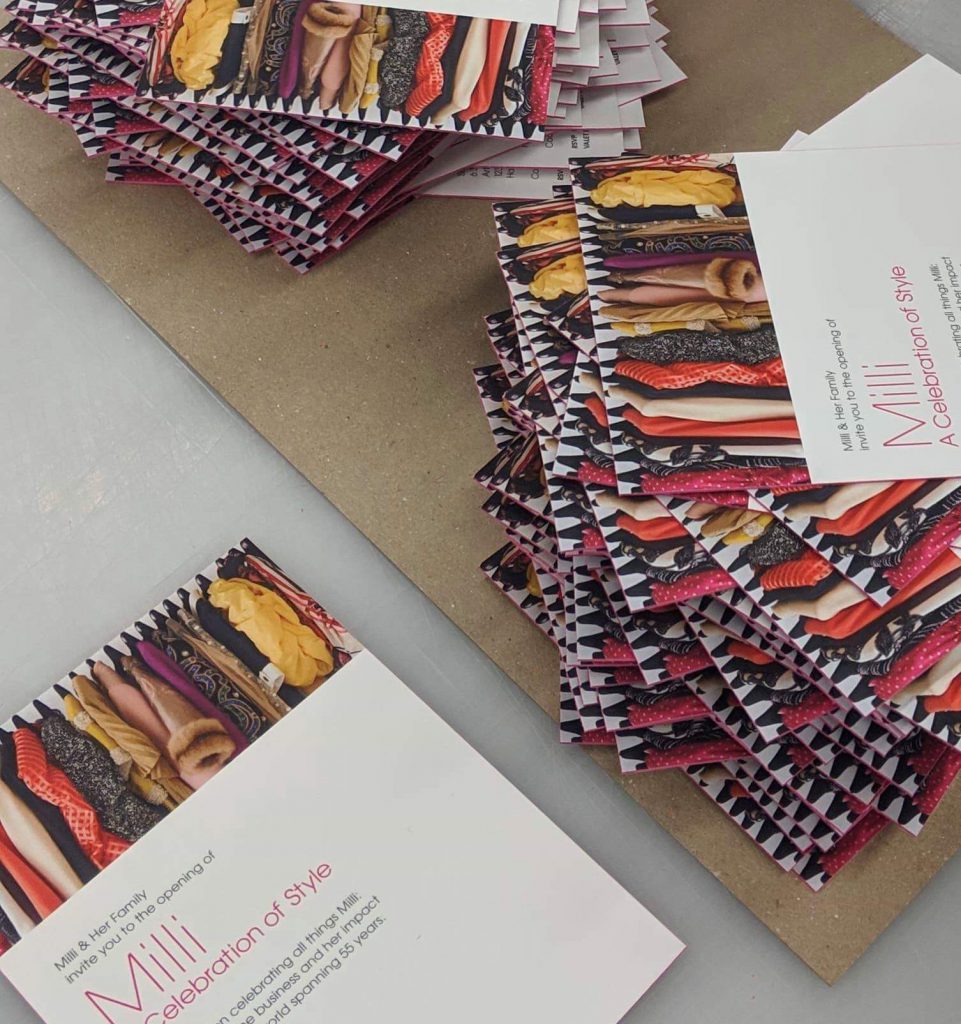 When you're known for fashion sense and style, a standard invitation just won't cut it. After testing a range of different options, we helped Milli select a quadruple-thick stock with the edges painted in Milli pink and then laminated it with a soft-touch coating to give it a delicate suede feel. Each invitation was mailed in a metallic charcoal envelope.
Collateral Quality Matters
At the exhibit, guests pick up a brochure when they enter the exhibit, but even these simple trifold brochures needed to be produced to the same quality and exacting standards that are hallmarks of the Milli brand. For consistency with the soft-touch laminate used on invitations, the 5,000 trifold brochures feature a soft-touch aqueous coating.
Stylish Event Space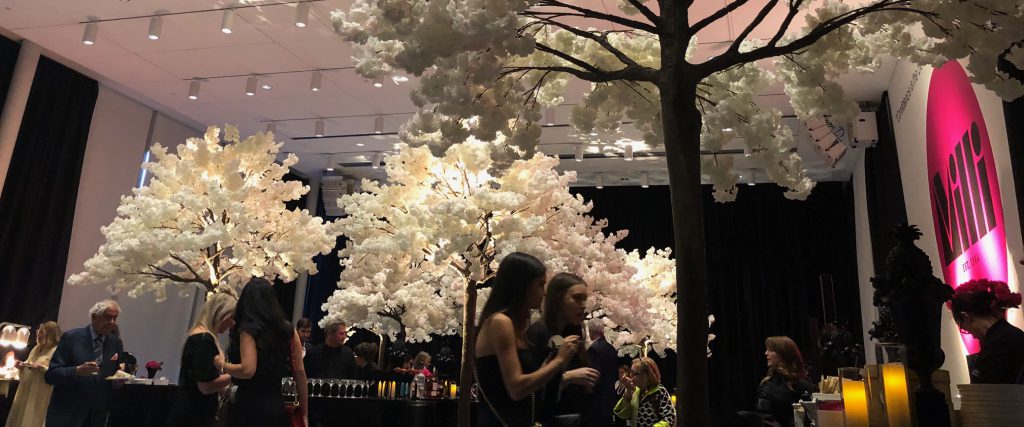 For the opening weekend events, we used custom-cut, removable vinyl to temporarily transform the event space with Milli branding and colours, including 10 x 10 foot panels with a black Milli logo in a circle of Milli pink and a quote from Milli that captured her spirit and personal view of the importance of fashion.
Taking advantage of every space available, even the floors got a Milli touch with black anti-slip removable vinyl Milli logos that guided guests down the hall and decorated to the event space. A late decision was made for more directional signage and an additional 26 signs were produced within hours of the gala opening.
With expertise, specialized technology and an experienced network of locations at our fingertips, we came together to deliver stunning pieces that helped transform the AGH into a space worthy of a retail fashionista like Milli.
Milli: A Celebration of Style will be on display as part of the AGH's permanent collection until February 9, 2020.
How we make it
Discover tips and tricks. Meet our project advisors and creative designers.
Serving up fresh ideas daily @tphcanada
Meet innovative creators, find inspiration in the details, and discover outside-the-box design. Connect with us & share your amazing creations.