We recently took a deep dive into the world of silkscreen printing, and we're still not over how cool the process is. It's hands-on, vibrant and fun to watch.
This Movember apparel project features a silkscreen printed hoodie and long sleeve t-shirt. Designed in-house for a local brewery customer – Redline Brewhouse in Barrie, Ontario. 
We chatted with Darci from the Redline team to get a behind-the-scenes look at the project, from start to finish.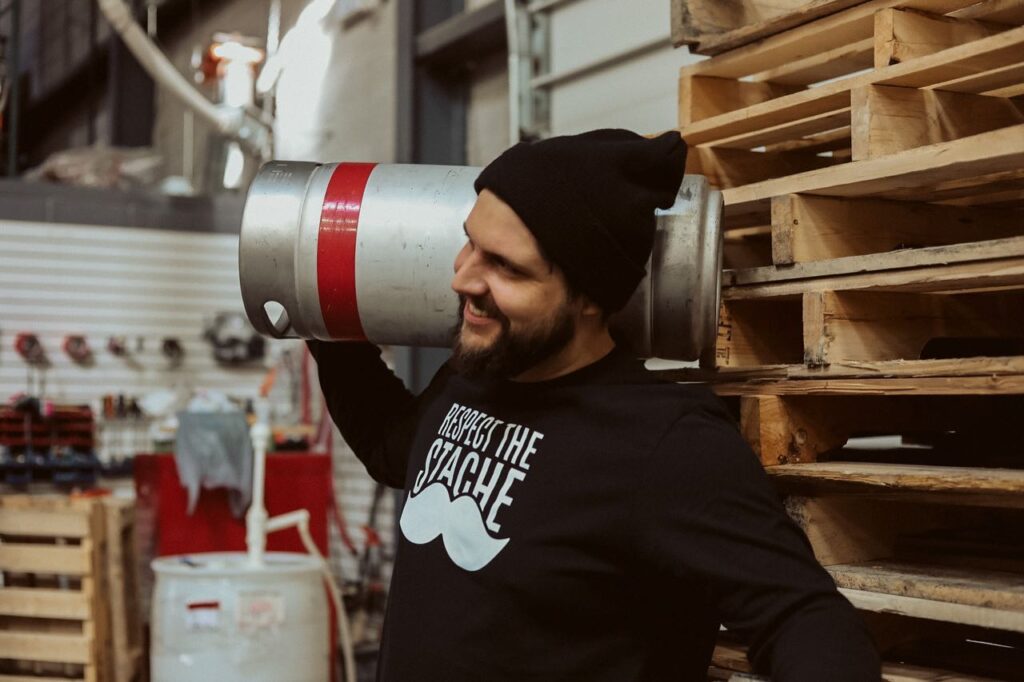 Behind the scenes Q&A with Darci, Marketing Manager at Redline Brewhouse
What's the project?
We've been loving the important conversations around men's health and mental health through the Movember awareness month. We're jumping headfirst into the conversation and thought we'd have fun with it, with the team. Beards. Brewing. All of it! We turned it into a contest for our community, inviting everyone to submit a "before" image, and then another photo on the last day of November. We'll choose a winner to get a Redline prize pack and some merch. You can also buy the Movember merch through our online shop.
Did you have a budget?
We usually just start with an idea and see where it takes us. TPH is willing to work with budgets of any size, so we went to them with the concept and ran with it from there. I love that we don't need a run of 200, we can order 20 of something and there's no hassle.
How did you create your design?
We actually worked with Rachel, the graphic designer at TPH in Barrie. She had us a concept within a couple of hours. So from start to finish, we had our hoodies in 4 days. The design process was so flawless, a big reason to go ahead with the project.
What's working with the Barrie team like?
The team there is just so very accommodating. They bring us creative ideas and are always up for working on projects that are outside of the box. We've been working together for a year and a half. I go to TPH no matter what- even if it's outside of their realm they'll make it work. LCBO advertisements, stickers, clothing, they make it happen.
Are you happy with the final product?
Absolutely, it was even more amazing than I thought it would be. It's so cool to see Cory screen printing by hand. Made by a person, not a robot. And they nit-pick way more than I do. So the finished product is always top-notch.
About Redline
Redline Brewhouse is a family-owned Craft Brewpub located in Barrie, Ontario with a focus on American and Belgian style beer. Rustic yet refined!
How we make it
Discover tips and tricks. Meet our project advisors and creative designers.
Serving up fresh ideas daily @tphcanada
Meet innovative creators, find inspiration in the details, and discover outside-the-box design. Connect with us & share your amazing creations.