Canvas prints are a must have in home decorating. Stretched canvas is not only easy to pull off, but it's a great way to showcase high quality photographs and art. We've pulled together our favourite ways to creatively use canvas prints at home. So if you're looking for inspiration you've come to the right place. Some advice? Find your inspiration and execute it. Don't get stuck in the mindless Pinterest scroll! We've all been there. Trust your gut, you've got this!
Statement art – go big!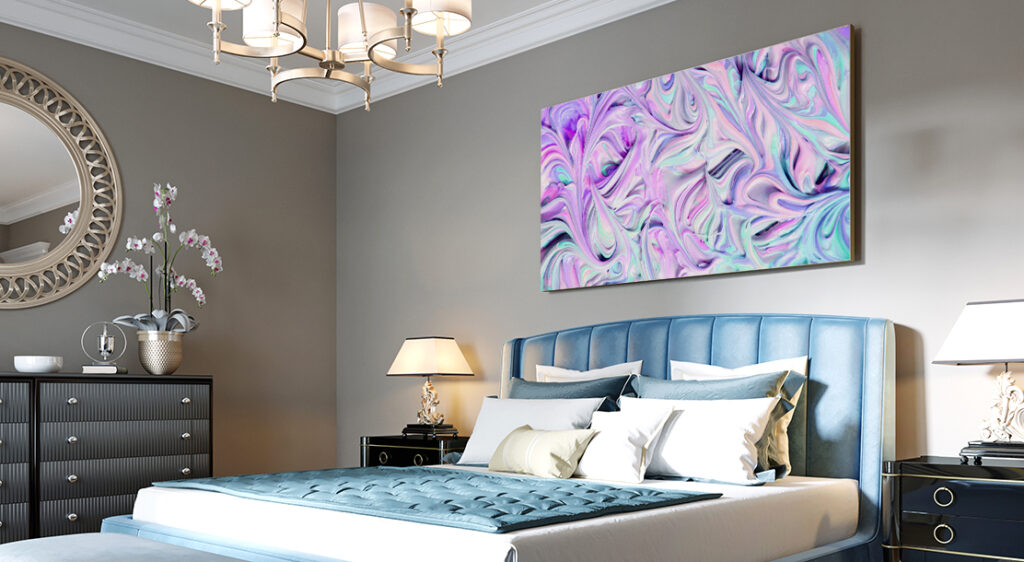 Sometimes the best thing you can do, is to be bold. An oversized canvas print can centre a room in a chic and simple way. Find inspiration in nature, a bold pattern, or in colour schemes that appeal to you. Statement art doesn't have to be complex, because its sheer size and scale can have such a dramatic effect on the look of your living space.
TPH has a variety of options when it comes to custom sizing, so if you're looking for a size that is larger than a 24" x 36" or 30" x 40" skip the online ordering and submit a quote direct to our team. We'll work with you to create the custom canvas print you're dreaming of.
Embrace an eclectic gallery wall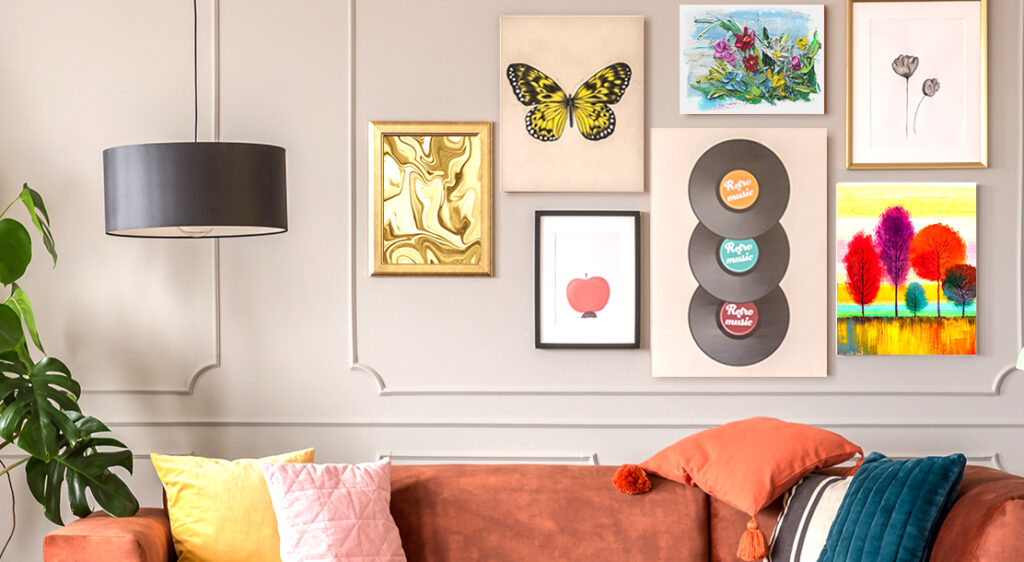 People love gallery walls. They're quirky, fun, personalized, and provide such a beautiful backdrop in unexpected areas of your home or office. Canvas prints are a great way to add texture and variety to a gallery wall. Mix canvas prints together with different pieces like a vintage painting, thrifted frames, and unconventional items such as a wall hanging or cross stitch art to complete the eclectic effect. We'd love to see your unique layout if you're up for sharing – tag us @tphcanada on Instagram.
Escape into your favourite travel photos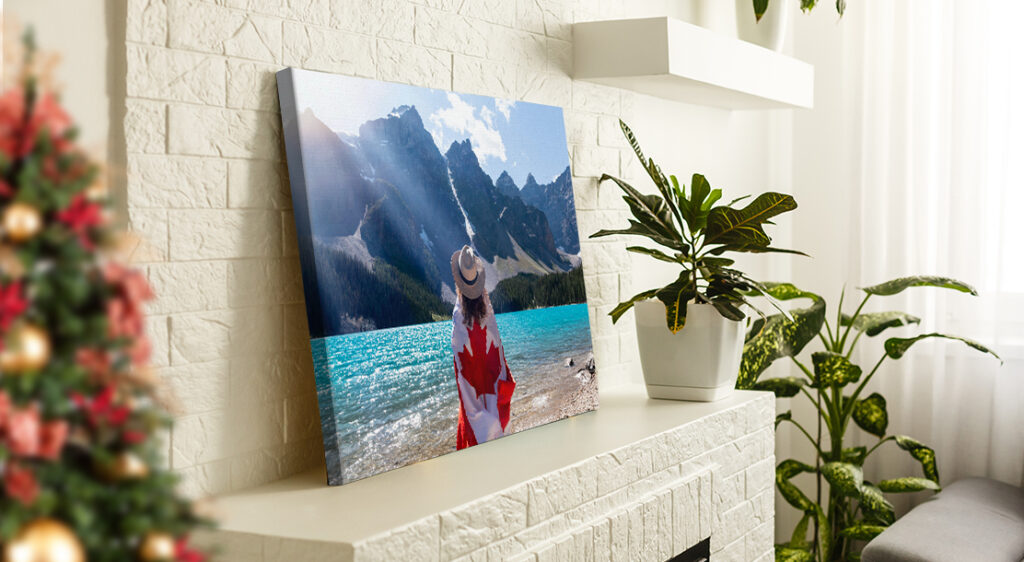 This one might be a bit obvious, but you're probably sitting on a treasure load of absolutely gorgeous travel photos. Taking a second look at photos from an unforgettable trip (especially when those experiences seem far away from our daily lives) can create an beautiful escape, right at home. An inspired shot of a natural landscape, or an up close snapshot of an incredible architectural detail.
Highlighting favourite images and memorable motifs from places you've visited is a unique way to add beauty and personality to your home. Be sure to use an original file that's high quality. For details about the files we can receive and the resolution specs, see our design guidelines at the bottom of our canvas page.
Immortalize your kid's cute art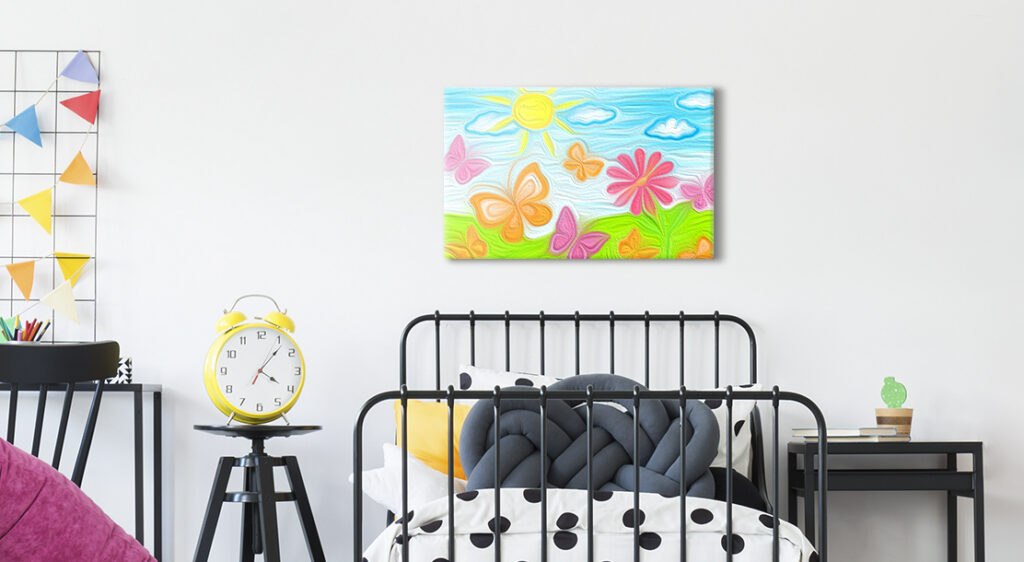 Showcase some adorable art while maintaining your role as gallery curator of your own home. While letting your little one go wild with paint on a stretched canvas is an adventure we (almost) always recommend… sometimes it's easier to avoid the mess.
Use canvas prints to create a beautiful keepsake that will tug at your heartstrings. Here's an easy shortcut that will transform any masterpiece into a permanent part of your home décor: take a photo of the artwork in indirect natural light, edit to your liking, upload to TPH Marketplace and we'll do the work. Printing on canvas will create a durable, beautiful, gallery worthy version that will show your little one how much you appreciate their creativity.
Pet portraits, need we say more?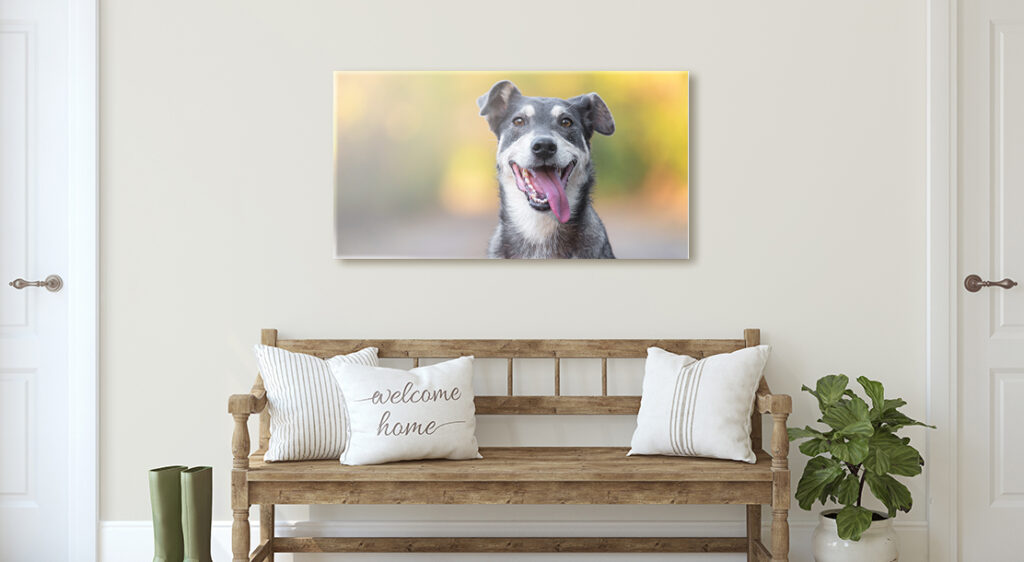 Who isn't filled with pure joy when looking at a beloved family pet. Putting your animal's photo on canvas art is the best decision you'll make today. Simply upload your favourite photo of Fido or Whiskers, and let them steal the show.
Create a family portrait collage with canvas tiles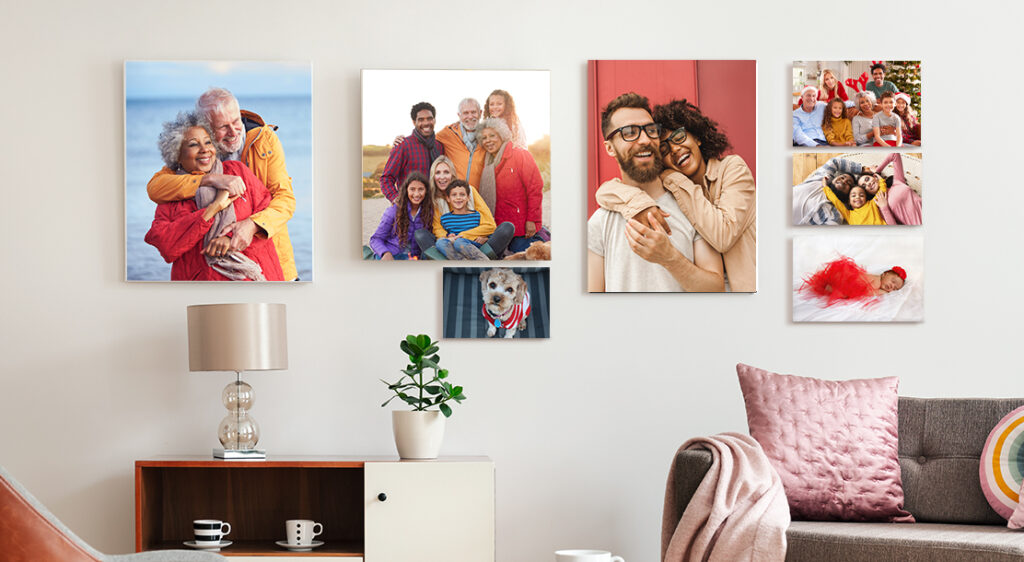 Having a hard time choosing just one? There's nothing more difficult than going through a mini-photo shoot and having to narrow down your favourites. Take some pressure off by choosing an odd number of images to group together, with different sized canvas photo prints. Arrange together on a wall to pull off a gorgeous showcase of you and your family.
Self-care canvas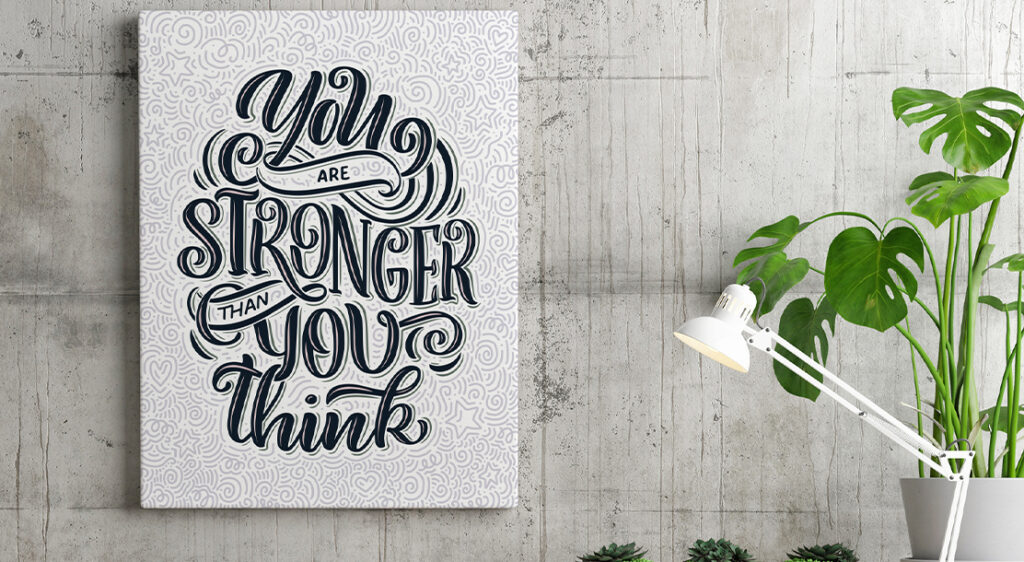 Inspirational quotes, quips, and reminders can help us stay mindful and present. Is there something you've been trying to live by or meditate on? Creating a physical piece of art that embodies a value you keep close or aspire to can transform your space into a place where you feel both cozy and inspired.
Whether you're working from home or trying to unplug and relax-word art might just be the design component you need. Looking for design help to create a completely original print? Our design specialists can work with you to create something from scratch.
There you have it! Canvas prints that unleash your inner genius.
Some helpful hints
Yes! You can upload a smartphone photo and turn it into a beautiful canvas print. Take care to make sure you're taking photos on a high quality setting. If uploading a photo from your smartphone – canvas prints up to a size of 18" x 24" will look best. Be careful with filters and effects, some (not all) smartphone apps can affect image quality.
Ordering is easy – just upload your image and customize the frame depth and edge effect. Unsure of what that is? Frame depth is how far the image pops out from the wall and edging options are what goes on the wrapped side of your canvas print.
Need reassurance? Our Design Specialists will make sure everything looks great. We'll even send you a digital proof to make sure you're happy before shipping it direct.
Feeling inspired to get moving on your own canvas project? Shop online to place your order or contact your local TPH Manager to chat about your next idea.
*10% of product sales, excluding taxes will be donated to SickKids Foundation.
How we make it
Discover tips and tricks. Meet our project advisors and creative designers.
Serving up fresh ideas daily @tphcanada
Meet innovative creators, find inspiration in the details, and discover outside-the-box design. Connect with us & share your amazing creations.