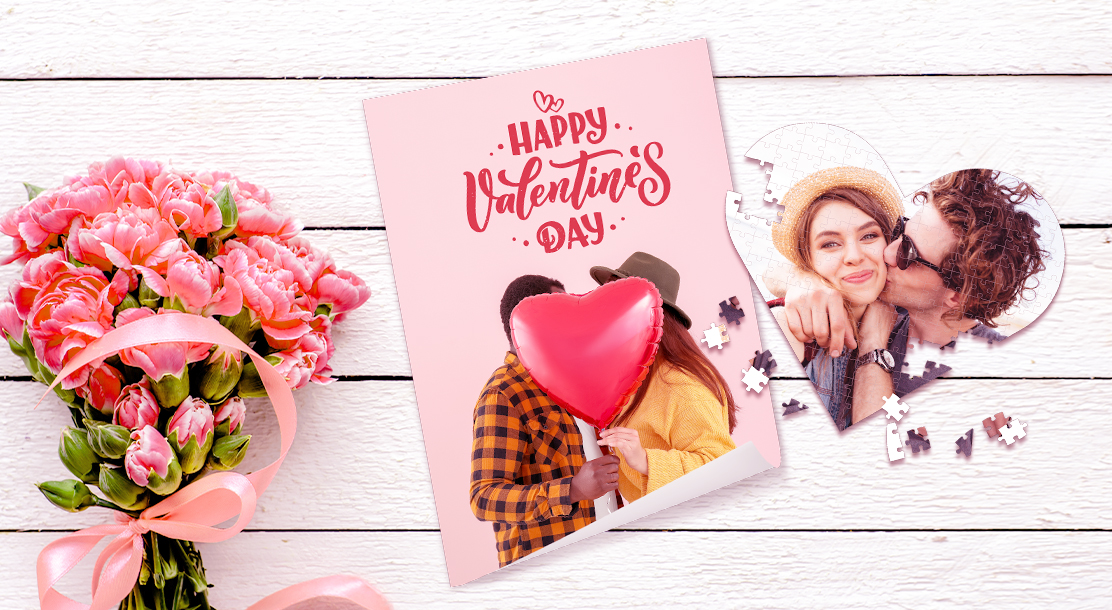 Valentine's Day is approaching and it's such a welcome distraction from the year we've had! With the majority of Canadians staying-in, many of us are searching for new activity and gift ideas to make the occasion more special. To help you plan your Valentine's Day 2021, we've mixed in some Valentine's Day essentials with some creative, personal gift ideas. We have you covered for activities with your special someone, family or friends.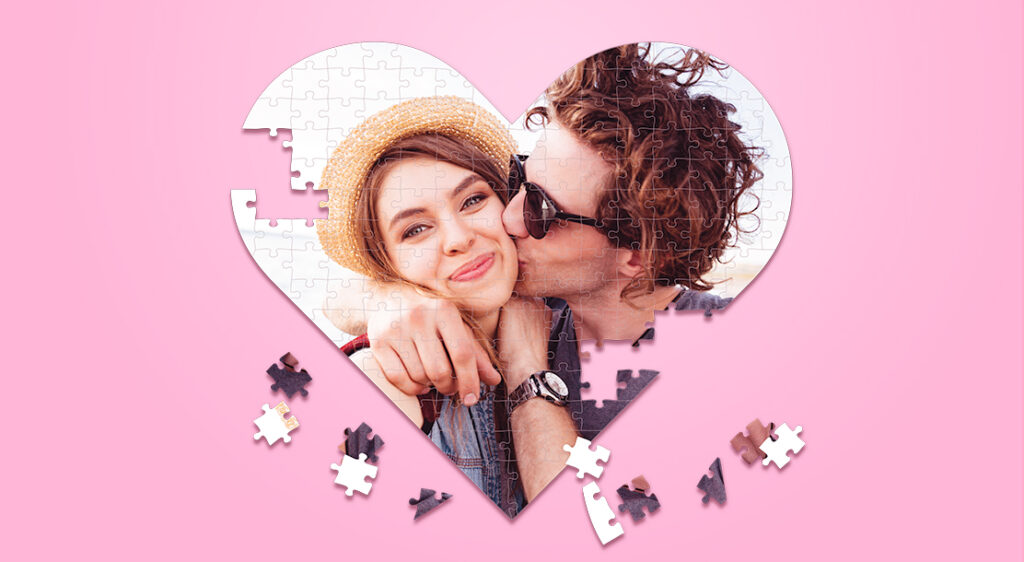 1. Create a heart-shaped puzzle
Try a new spin on puzzles! Puzzles grew in popularity this past year with demand at an all-time high. According to CTV and CNBC, in 2020 one of the world's leading manufacturers in puzzles was selling a new record of 20 puzzles per minute across North America! Many Canadians dusted off their city skyline, landmark and scenery puzzles in search of a fun indoor activity. But wouldn't it be more fun if instead of adding another brick to a majestic castle – you could piece together your loved one's sunburn from that vacation in 2018?
This Valentine's Day, put your landscape puzzle back on the shelf and create a custom heart-shaped puzzle of your wedding photos! No significant other? Let your friends know you're thinking of them by creating a puzzle of your funniest photo together. Spending Valentine's Day with just you and your new quarantine puppy? Create a personalized puzzle of your dog's silliest moments.
TPH Market offers custom jigsaw puzzles from 100 – 750 pieces in classic or heart-shaped style! You can order online, upload your photo, and enjoy 3-business day delivery across Canada.
2. Sentimental wine & takeout
Make Valentine's Day an occasion and order some sentimental cuisine! Celebrate your first dinner date with your significant other by reordering meals that you enjoyed during monumental moments in your relationship – try anniversaries, vacations, or moving in together.
Having a Valentine's Day virtual date? Make it more fun with a cooking challenge. See who can create the ultimate plate of nachos or drool-worthy chicken parmigiana.
Enjoying a solo Valentine's Day? Treat yourself to your favourite wine, and support local with your favourite meal. Can't choose? Make a list of your favourite Valentine's Day sitcom episodes and romantic comedies and choose the main character's favourite drink and meal.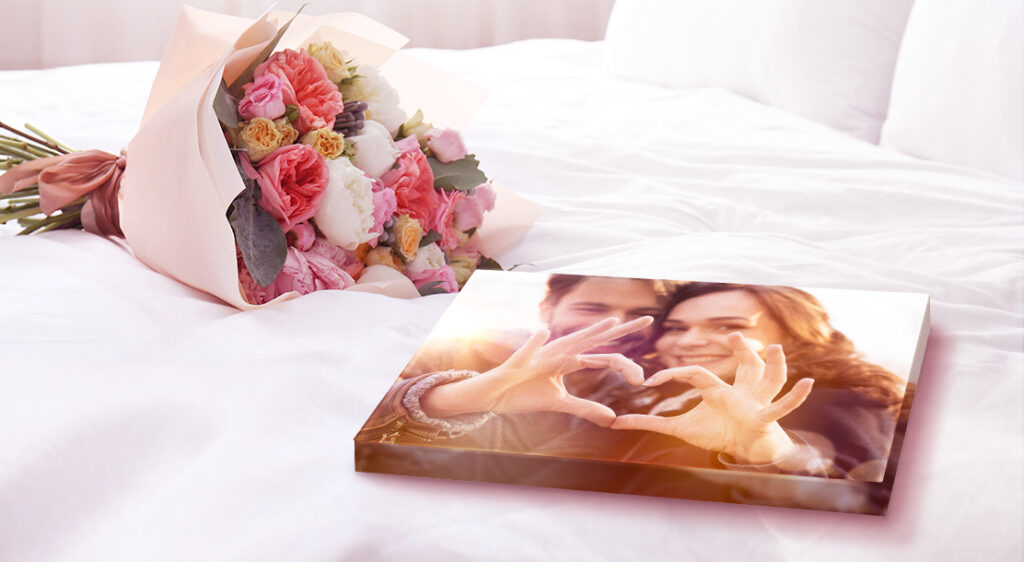 3. Personalized canvas art
Create a lasting memory of your relationship with canvas art! Go beyond the flowers and show your significant other your favourite photo of them by ordering their own canvas piece. Create a statement wall by combining three photos of various stages in your relationship. Another inspirational idea for canvas art gifts is to make use of your favourite wedding photos with a multi-panel set.
Treat yourself this Valentine's Day with some new home decor! Celebrate times you were at your happiest – travelling, graduating, or starting a new career. Gift yourself a feel-good, home office memory.
Create custom canvas art by uploading your photo at market.tph.ca – a way we've made online ordering for select items easier with TPH.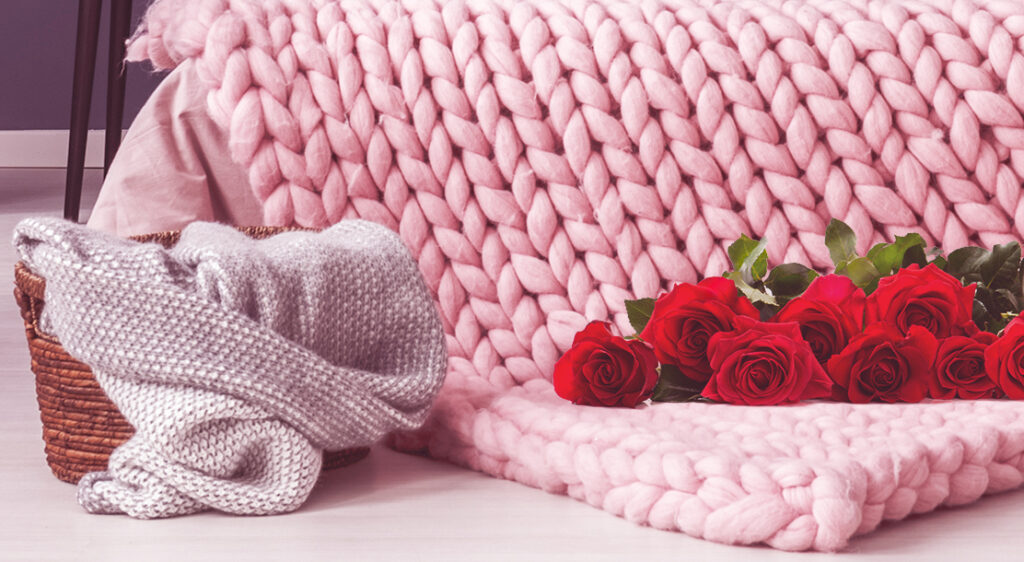 4. Stay-at-home package
Create a stay-at-home package with feel-good items like a cozy blanket, decorative flowers and a personalized gift or activity. Plan a games night or make a list of nostalgic movies that make your top ten list! Check out your Google Play or App Store for virtual games you can play on FaceTime. For instance, the GamePigeon app offers competitive iMessage mini-games like basketball, beer pong, word games and pool! Don't forget your favourite snacks.
Show appreciation to yourself for what you've overcome in the last year. Have a personal spa night alone, with family, or virtually with friends. Order face masks, cozy blankets or onesies and send your girlfriends some flowers! Sending yourself flowers – highly recommended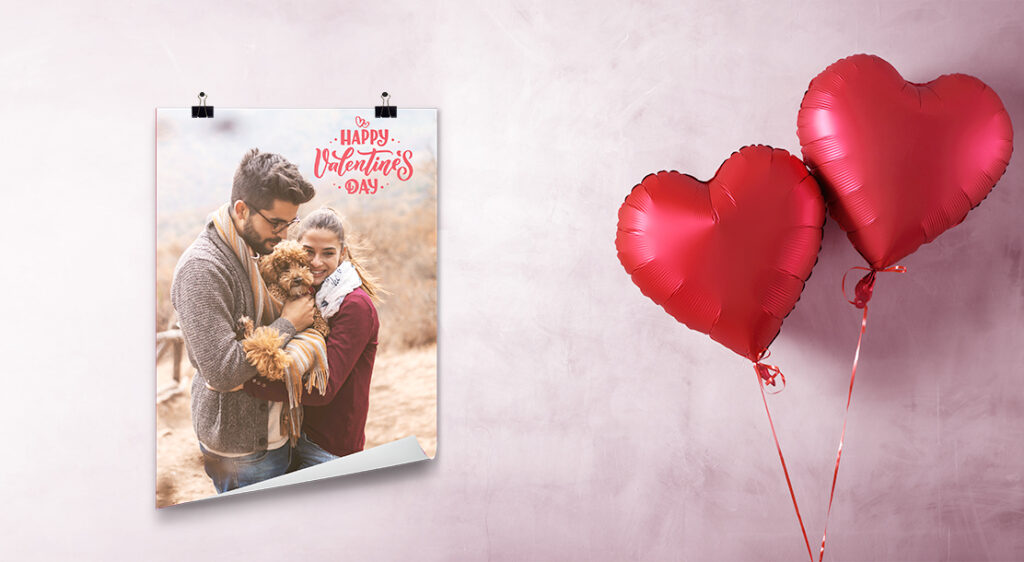 5. Go all out!
Show love to your whole family – pet included. Create a custom photo poster of your one-true-love, your animal. Posters can be hung-up as is or framed separately (just find some affordable frames from a local shop).
Show your kids or your mom that you were thinking of them with a custom poster of a family moment. Our posters are a great addition to kid's rooms as they're virtually untearable.
Create custom posters by uploading your photo or design at market.tph.ca – a way we've made online ordering for select items easier with TPH.
Go all out, dress up for yourself or get cozy with custom apparel. Create personalized apparel by uploading a funny photo, saying, or design. Order online or connect with a TPH Manager for a hands-on solution.
Whether you're celebrating this Valentine's Day solo, with family, your significant other, or virtually – we hope you were inspired with some activities and gift ideas! Create some lasting memories and make this Valentine's Day one for the books!
Share your Valentine's plans with us @TPHCanada on social media!
You may also like: