Companies have turned to creative external signage to show their support for small businesses, to ease confusion about whether or not they are open, and to enforce social distancing. External signage is a proven way to increase foot traffic into your establishment – even during uncertain times.
External signage increases foot traffic with added visibility, "Nearly 76% of consumers (8 in 10) said they had entered a store or business they had never visited before based simply on its signs."
Signage is a contributor to sales through discoverability and building brand trust. Unprofessional, homemade signs are a key indicator to your clientele that your business practices will be unprofessional too.
We'd like to share some effective, creative ways local businesses are using signage in the wake of COVID-19.
1 – Outdoor sidewalk signage
The Waterfront BIA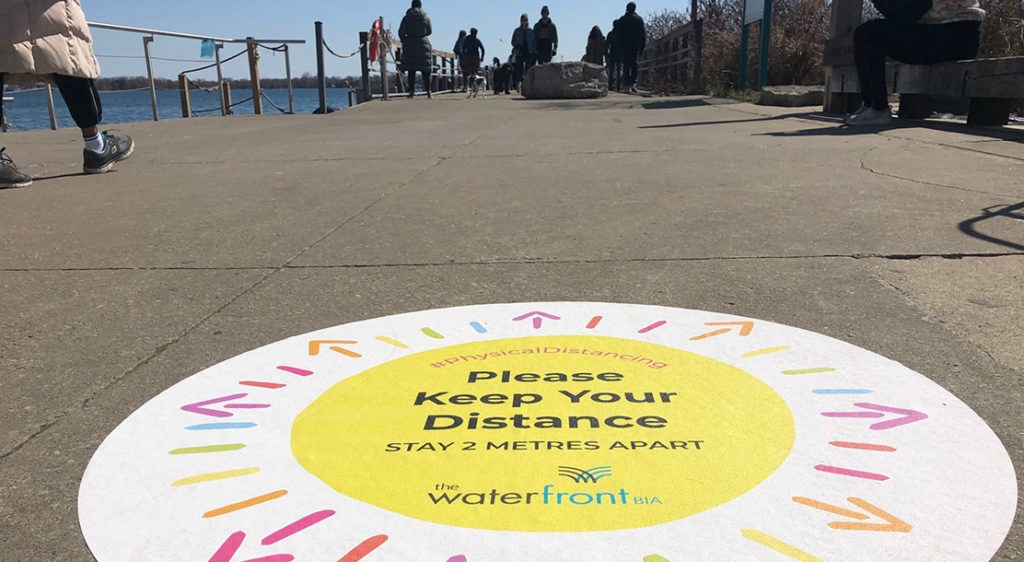 The waterfront in Toronto is at risk of overcrowding – with many Torontonians eager to escape the stale air of their cramped condos. Physical distancing measures must be communicated and abided by even in outdoor spaces. Find out more about Ontario's physical distancing recommendations from Ontario Public Health.
To ensure the city is aware of appropriate physical distancing outdoors – The Waterfront BIA has stepped up with exterior sidewalk signage.
Floor decals can be used for interior or exterior use. The floor signage doesn't require professional installation – they're easy for anyone to apply and remove. Waterproof, UV proof, and leaving no residue behind – floor decals are perfect physical distancing signage both indoor and outdoor.
We recommend designing your floor signage with prominent, bright colours that contrast from the colour of your flooring.
Explore more social distancing signage options.
2 – Window signage
Downtown Brampton BIA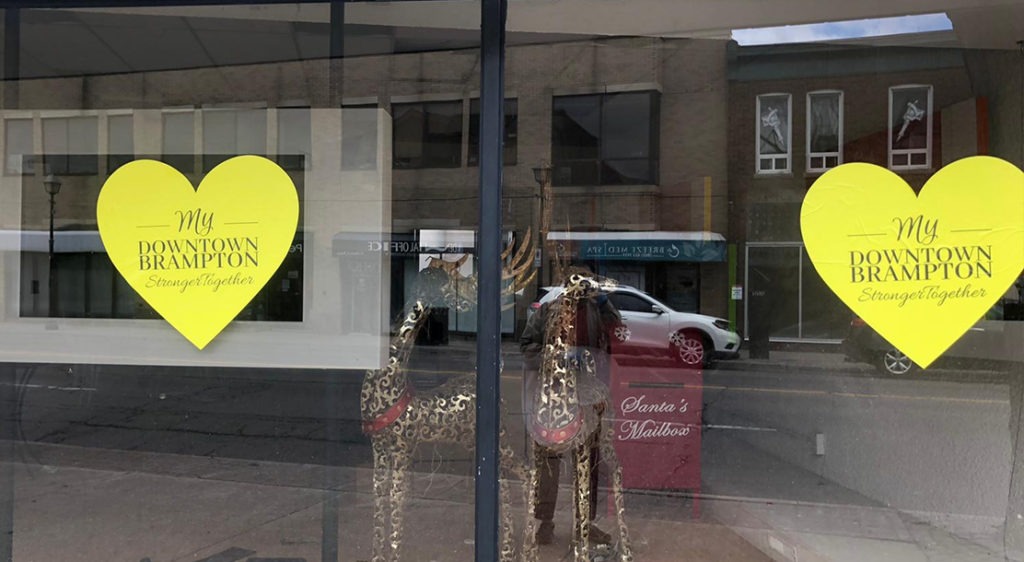 Downtown Brampton BIA has used external window signage to initiate their, 'Stronger Together' campaign. The feel-good message is focused on providing support and unity for small businesses. To strengthen collaboration and community, they have created vibrant, vinyl hearts to be displayed in storefront windows.
The yellow vinyl hearts across Downtown Brampton are hard to miss. Small businesses are using this message as a way to connect with each other from a distance.
Fairmont Royal York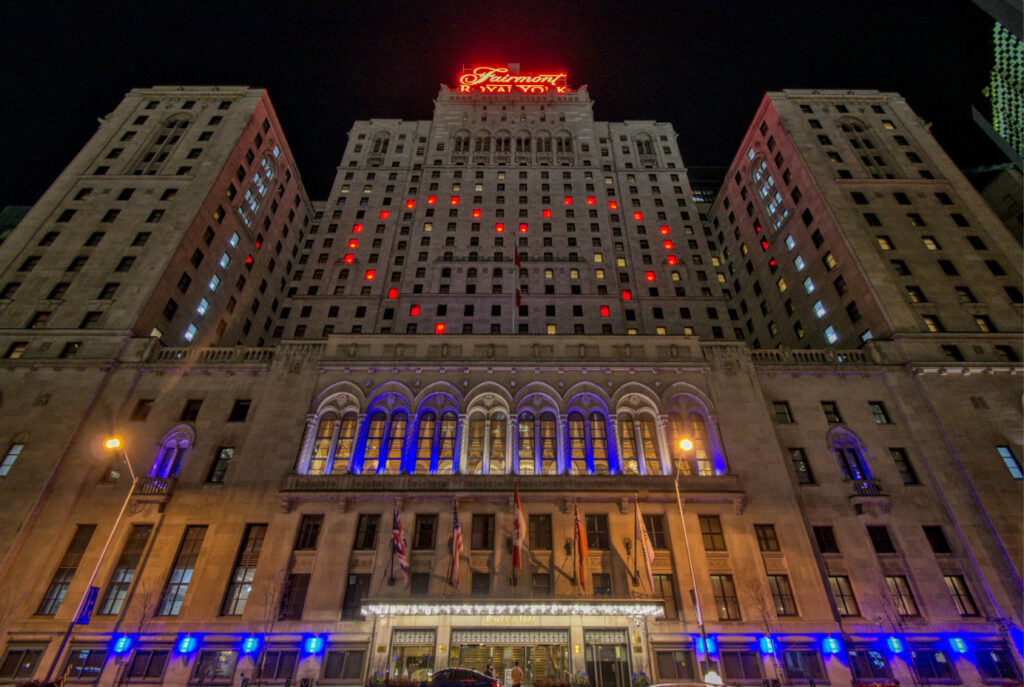 The Fairmont Royal York has brought expressing its appreciation of health care professionals to new heights with a beautiful exterior gesture. The Toronto hotel is utilizing their increased vacancies as an opportunity to say thanks – turning their windows into a giant heart.
The prominent hotel wrote on Instagram, "We've been at the HEART of our community for over 90 years and we are committed to remaining open to provide accommodations for those who seek them. We've been taking care of Toronto since 1929 and we are proud to continue this tradition." They have switched their operations to be an extra place of solace for those in need – including our front-line.
Eataly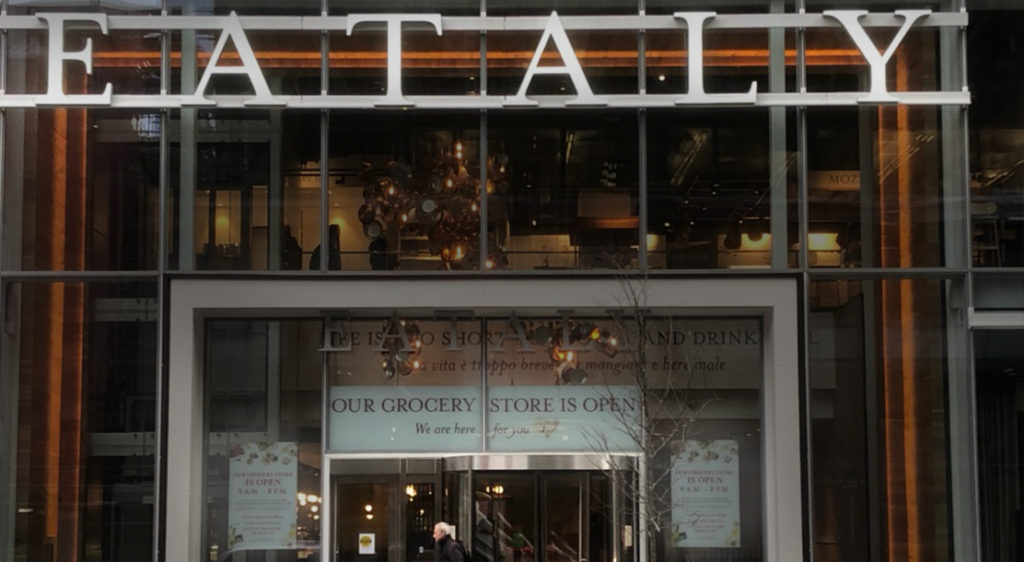 Eataly, a Toronto grocer, is utilizing window signage to communicate to the public that they remain open. The Italian Market has put prominent signage above their front entrance – ensuring any foot traffic is alerted of their store's present operations.
The food market worked with its local TPH Manager, Paul Zarnett, to communicate their store's hours of operation effortlessly on-brand. Find out more about signage & display printing.
TPH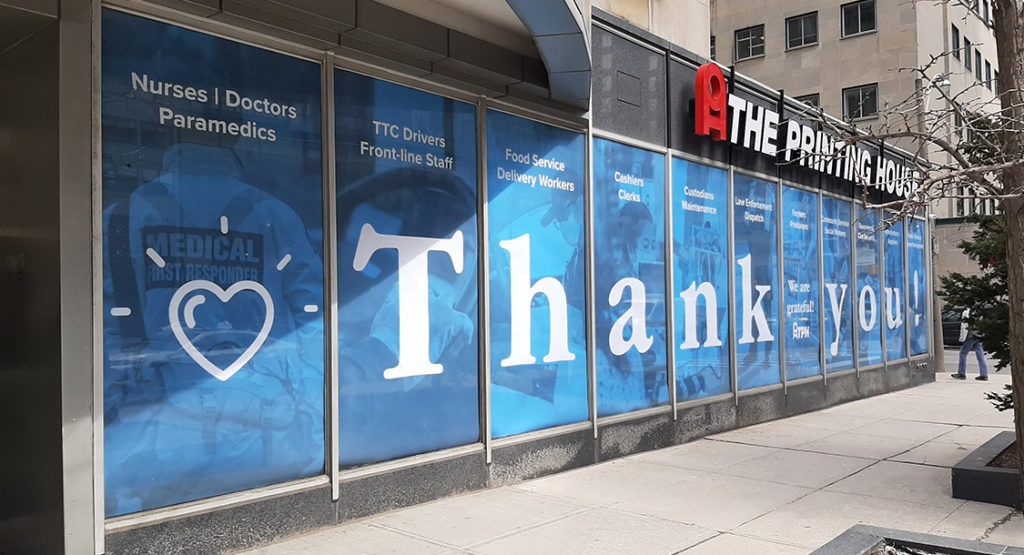 At TPH, we've decided to use some of our storefront windows to show thanks to our frontline. You can find this window covering at our University Avenue location in Toronto.
TPH Manager, Hamish Selby printed and installed this extravagant artwork – hoping to show some gratitude and positivity towards our community.
3 – Entrance posters
Eataly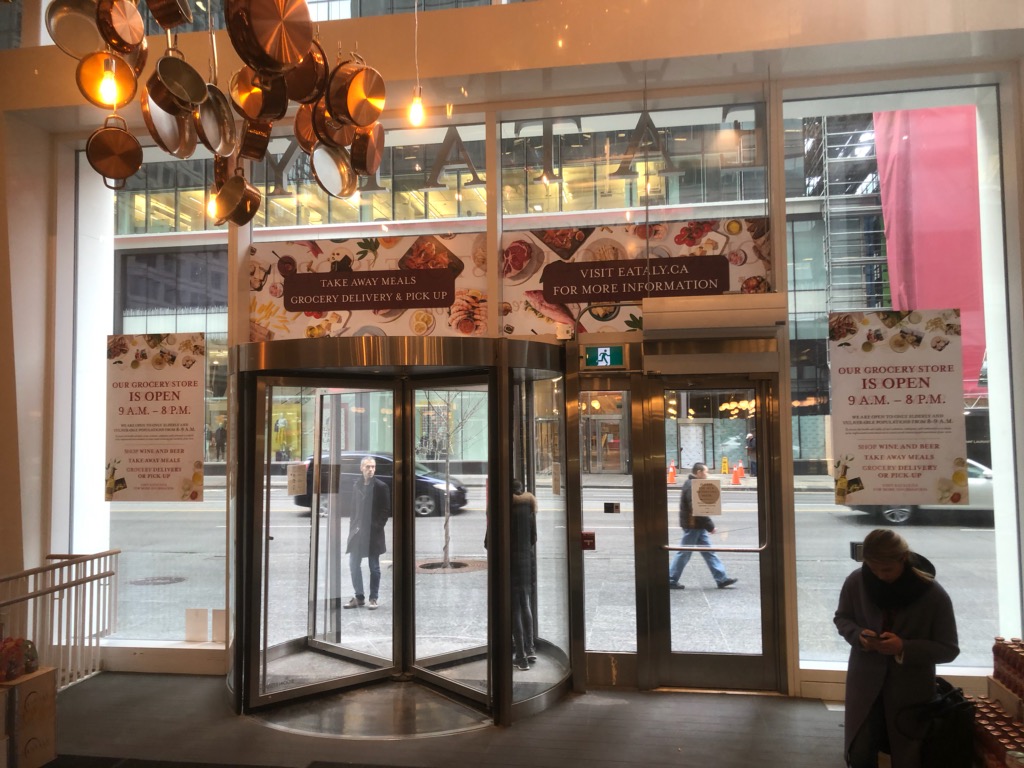 Eataly has taken the communication of their location's availability one step further using entrance posters to share their hours of operation.
Large posters are useful to communicate if stores are open as an essential service, if their business is available online, or if they are eager to return to their customers when it's safe to do so.
With the safety of customers and staff being a top priority, posters can also be used to communicate physical distancing best practices.
4 – A-frames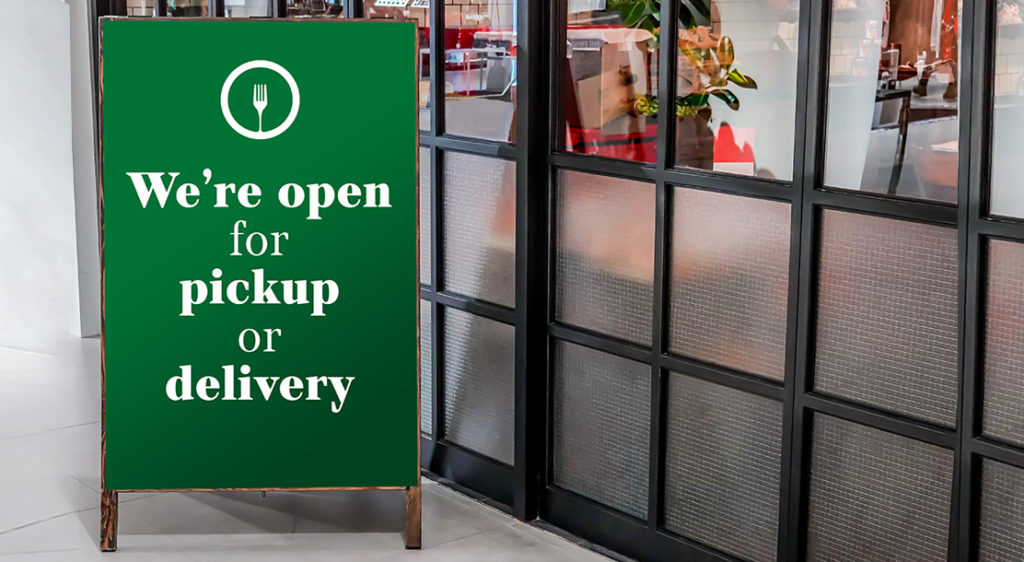 A-frames are an additional way that businesses are eliminating confusion on whether they remain open. Place these external signs outside your door to thank customers for supporting your small business, to denote hours of operation or to share social distancing instructions within the store.
We've demonstrated below one way that restaurants have been using A-frames to communicate their pickup or delivery options.
5 – Flags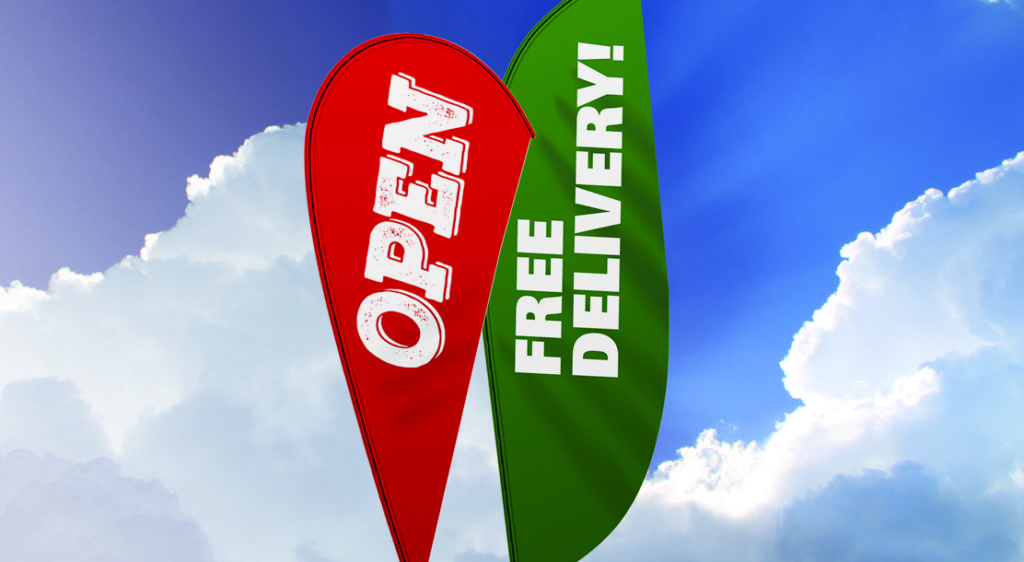 Flags are an eye-catching addition for businesses that remain open – hardware stores, takeout restaurants, and grocery stores. Flags are traditionally a great attention grabber for on-site activations and sales. They're often used as extra branding real estate to draw people in.
Go beyond basic branding and use flags to communicate call-to-actions like 'free delivery'.
We're here for you
Are you in need of small business signage or physical distancing solutions? Search for and connect with your local production centre.
We're here for our communities, small businesses, and you.
How we make it
Discover tips and tricks. Meet our project advisors and creative designers.
Serving up fresh ideas daily @tphcanada
Meet innovative creators, find inspiration in the details, and discover outside-the-box design. Connect with us & share your amazing creations.