To grab customers' attention, it's important to try fresh ideas by getting creative and providing a positive customer experience. Don't be afraid to start rethinking the way you've traditionally used marketing materials. Here are some inexpensive ways to use marketing must-haves to show gratitude, create intrigue and influence action.
1 – Business Cards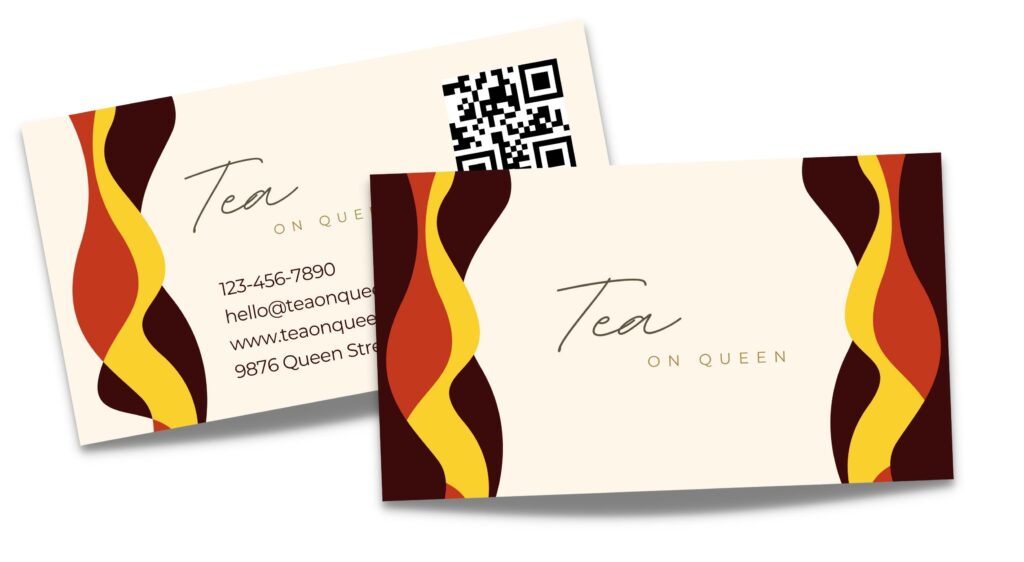 Business cards are the window to your business. They're the first glance into whether your company is a perfect choice. To leave an impression, it's imperative to create an eyecatching, high-quality business card that's reflective of your industry. Don't waste this networking tool's opportunity to share your professionalism, creativity, and brand intrigue.
Professionalism
Choose easy-to-read fonts and complementary colours to showcase your business' legitimacy. For innovative brands in the creative industry, get artistic with bold designs. For corporate brands such as banking or legal, be sure to choose high-quality paper such as triple thick or premium finishes (foils or spot UV).
In general, avoid whimsical fonts and keep your colour palette to 2-3 options. A well-done business card can do wonders for brand trust.
Create intrigue
Add a QR code to your business card to inspire action. A QR code can easily direct potential customers to your website to get them closer to doing business with you. QR codes are easily updated to a URL of your choice to showcase seasonal promotions, custom landing pages or product launches.
No design experience?
Canva's drag-and-drop interface makes it easy to design. Choose from thousands of templates and make your card your own. Shop online and start creating.
Rather leave it to the pros?
Contact a TPH Manager in your area to work with a team of designers who will help you every step of the way.
2 – Thank-You Cards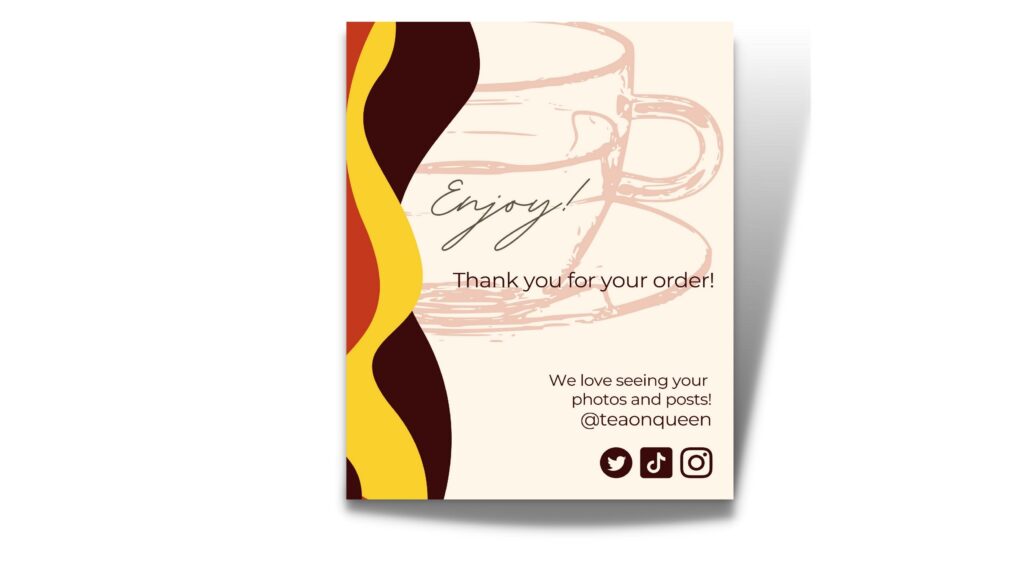 For your business to flourish, it's crucial to take advantage of opportunities to secure repeat customers. A thank-you card is a lasting touchpoint to make customers feel good about doing business with your brand.
Personalization
Go above and beyond your competitors by adding a personalized note. A handwritten thank-you humanizes your brand and increases the chance of a customer resharing the experience on social media or in a Google review.
Achieve this by creating a postcard design that leaves space for a thoughtful, personalized message. Don't forget to address your postcard with the customer's first name to show them you took your time with their order.
Design it yourself
Upload your own design or create one with Canva's drag-and-drop templates. Shop online to start creating.
Contact the pros
Your TPH Manager can recommend thank-you card designs and materials to create your vision.
3 – Direct Mail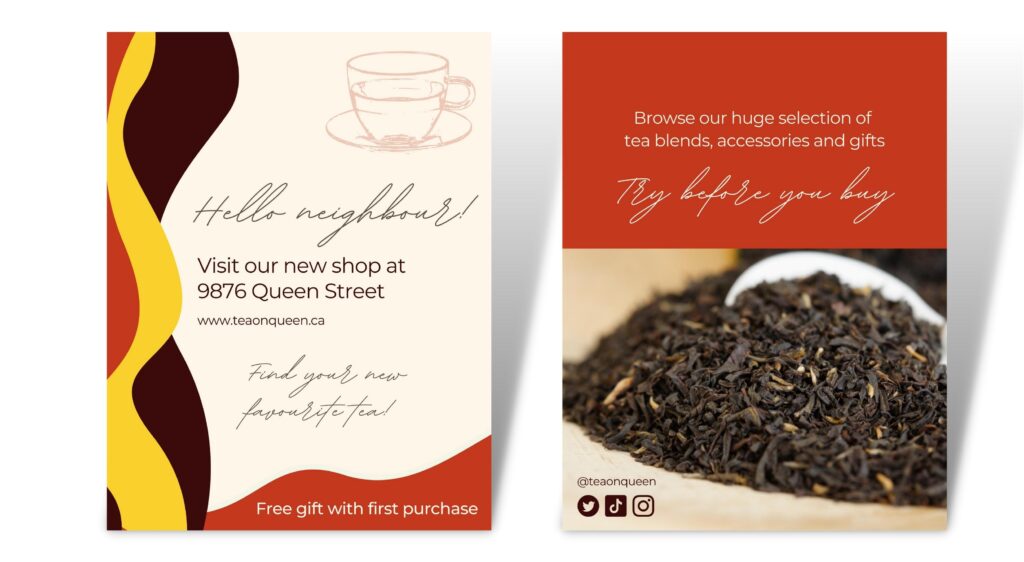 Direct mail is a highly-targeted opportunity to reach your potential customers. Done correctly, you can achieve valuable brand recognition. This is because direct mail takes longer to open and handle. Let's run through tips that will help your mailed postcards or flyers resonate with customers.
Create intrigue
If you want your direct mail campaign to stand out against the rest, it's crucial to give people an offer to act on. If you're targeting leads, you may want to deliver a welcome offer. A great example of this could be 20% off their first order. Offers are a convincing way to influence action and track results. For urgency, make it clear that the offer will expire in a short time.
Professionalism
Like business cards, you have an opportunity to set yourself apart with premium thicknesses and finishes. Direct Mail is about the experience of delighting the senses. Aim to create eye-catching designs that people will want to touch and feel. You can achieve this with embossing, debossing, vibrant colours and finishes that shine.
Smartmail Partnership
Ask how our Canada Post Smartmail Partnership allows us to take care of every aspect of your direct mail campaign. This includes envelope stuffing, data cleansing, and variable printing.
Ready to get started?
Shop online or contact your TPH Manager for expert advice and speedy turnaround.
Thanks for reading! We hope you're feeling inspired to take your marketing materials to the next level.
How we make it
Discover tips and tricks. Meet our project advisors and creative designers.
Serving up fresh ideas daily @tphcanada
Meet innovative creators, find inspiration in the details, and discover outside-the-box design. Connect with us & share your amazing creations.