For the restaurant industry, there can be no better time of year than the holiday season. Between company outings, family events, and general celebrations in the lead-up to Christmas and New Year, many restaurants expect to have their busiest month of the year. Holiday print marketing materials, including posters, gift cards, holiday menus and direct mail, are so important for restaurants to stand apart.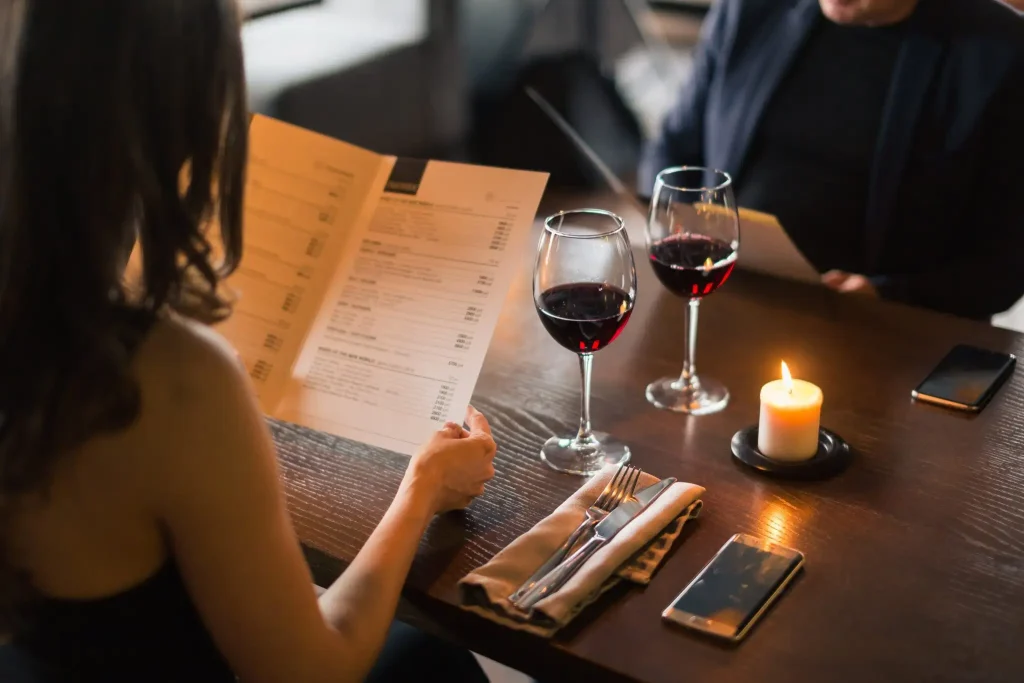 What Are The Best Holiday Marketing Strategies for Restaurants?
The holidays are a busy time for restaurants. It's the time of year when virtually everyone is making plans to gather with family and friends, so you need to let them know that your restaurant is the perfect place to celebrate and enjoy the food, drinks and ambience. That means it's essential for restaurants to step up their marketing game during this period. Print materials are easy to produce and highly-cost effective, which makes them ideal for this time of year.
One way to do this is by offering special holiday food and drink menus. This not only draws in customers who are looking for some different menu offerings, but it also helps to create a festive atmosphere. Customers are more likely to visit a restaurant that seems inviting and celebratory, so it's important for restaurateurs to make the most of this opportunity.
To help holiday menus have maximum impact, marketing efforts during this time should focus on creating a sense of urgency. With the right combination of signs and displays, customers can be encouraged to book their holiday parties early, as many restaurants will be fully booked with private parties closer to the holidays.
Gift cards are a great way to show appreciation during the holidays, or to thank someone for their business. This gives you the opportunity to showcase everything you have to offer – attracting new customers and converting them into regular patrons.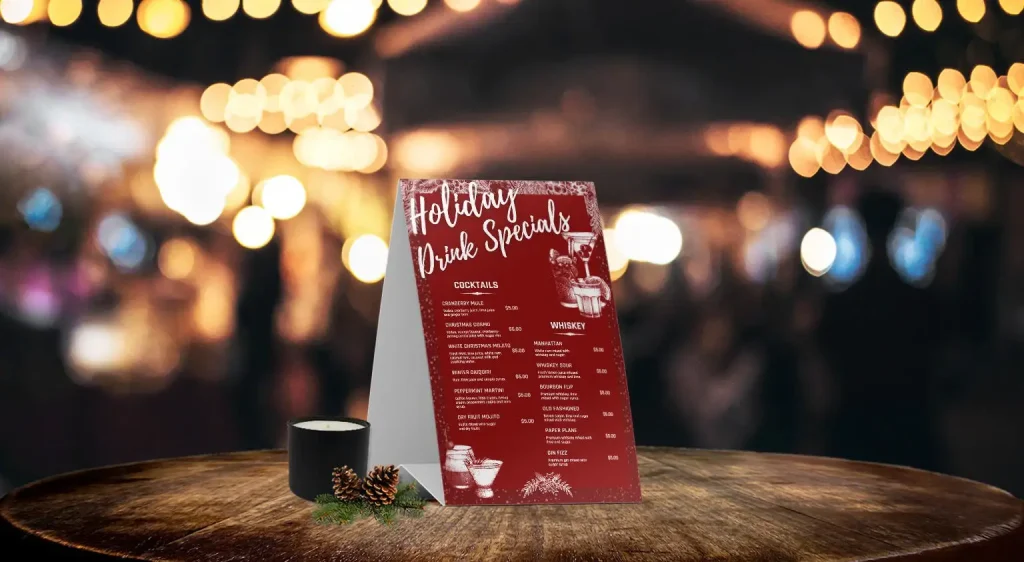 Ideas for Holiday Print Marketing Materials for New Restaurant Owners
As a new restaurant owner, you'll want to make sure your restaurant is top-of-mind for potential diners during the holiday season. One way to do this is to create holiday-themed print marketing materials that are both eye-catching and informative. Here are a few ideas to get you started:
Outdoor banners are a great way to give your restaurant more visibility and attract customers, especially in areas with lots of foot traffic.
Send out postcards featuring a festive design and a special holiday menu several weeks before you expect things to ramp up, so prospective diners can make reservations.
Create an informative flyer that highlights your restaurant's unique features and holiday offerings. Distribute the flyers to local businesses and residential areas.
Hang door hangers on local businesses and residences advertising your restaurant's holiday specials. This is a great way to reach people who may not see your other marketing materials.
Find Your Nearest TPH Location to Get Started on Custom Banners for Your Restaurant.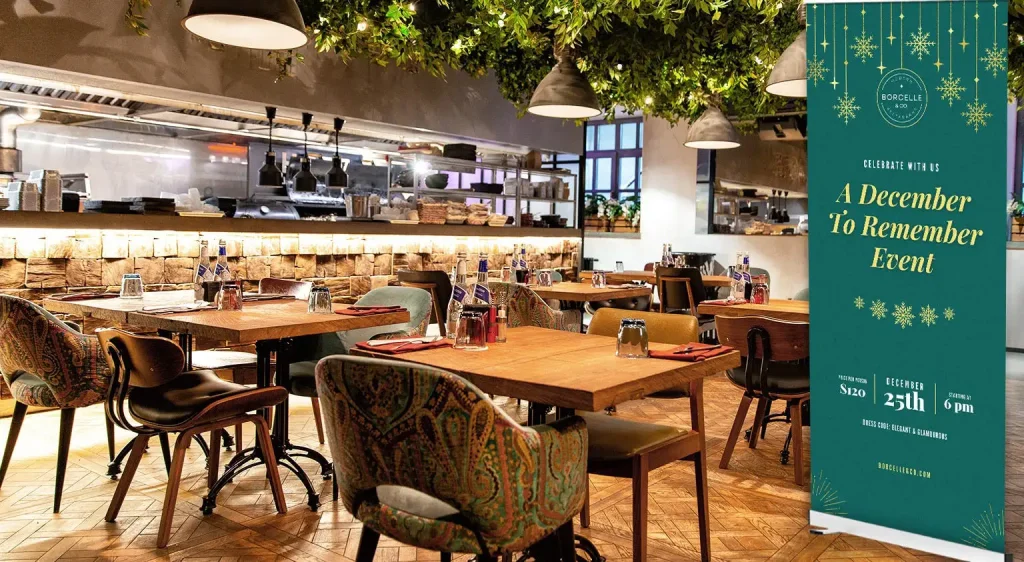 Top 10 Restaurant Print Marketing Essentials
1. Holiday Menus
A holiday menu is a great way to get customers in the door during the holidays. Be sure to include all of your holiday favourites, as well as any special promotions or discounts you may be running.
2. Gift Certificates
Gift certificates make great gifts for friends and family members who are difficult to shop for. They can also be a great way to attract new customers, so be sure to promote them heavily during the holiday season.
3. Table Tents
Table tents are essentially miniature billboards, and they are a great way to promote special holiday menu items or discounts.
4. Door & Window Decals
Door and window decals (sometimes called "clings") are a great way to decorate your restaurant for the holidays and attract attention from potential patrons. Be sure to choose festive designs that will catch people's eyes.
5. Holiday-Themed Banners
Holiday-themed banners are a great way to add a festive touch to your restaurant, increase your visibility and promote your brand all at the same time.
6. Place Mats
Place mats are a great way to dress up your tables for the holidays, add a festive touch of seasonal decor, and promote your brand at the same time.
7. Coasters
Coasters are a must-have for any restaurant, and they can provide a nice addition to your other print materials. Although they might seem minor, customers can't help but notice when a restaurant pays close attention to seemingly small details.
8. Direct Mail Campaign
Restaurants can use a direct mail campaign to reach new customers and build loyalty with existing ones. For example, direct mail can be used to send coupons to customers who live near the restaurant. Also, you could send a business card and a short word of thanks to customers for their loyalty and encourage them to come back soon. A personalized direct mail piece can have an incredible impact.
9. Take-Out Menus
Take-out menus are a must-have for any restaurant, and they can be a great way to promote your brand during the holidays. Be sure to include all of your holiday favourites, as well as any special promotions or discounts you may be running
10. Themed Magnets
Magnets are excellent marketing tools, especially if you offer food carryout and delivery. Print menu magnets that customers can place on their refrigerators so they're reminded of your restaurant whenever they're hungry. You can also print car door magnets to promote your restaurant everywhere you go.
If You Want One Of These Ideas Developed for Your Restaurant, Contact a TPH Location Near You.
TPH – One Source for all Your Print Marketing Needs
TPH is your one-stop shop for all your print marketing needs. From custom banners and flyers to menus, gift cards and more, we have all the products and services you need to get your message out there. TPH offers a wide range of printing options to fit any need, and our team of experts will work with you to find the perfect solution for your restaurant. Contact your local TPH location to get started.