WHAT IS CANVA?
Canva is a user-friendly, web-based design tool. Users get access to a built-in template library, and the ability to save and share files. Whether you're 8 or 80, its intuitive drag and drop user interface makes creating unique designs easy.
WHY YOU'LL LOVE CANVA + TPH
Canva is free and easy to use. Explore Canva's templates and design tools to produce your creation with the help of TPH. It's now easier than ever to dream, design and order your project online.
Here's what you need to know to get the most out of Canva:
1) YOUR NEW BEST FRIEND: TEMPLATES
Having access to a perfectly sized template will save you time, money and stress. Choosing the correct template gives you crisp, high-quality files that look good. Browse Canva's template library to access print-ready and digitally optimized templates.
2) CONSISTENT BRANDING: COLOUR SCHEMES
Keep your brand colours accessible by saving your top 3 colours for reuse. Consistency is key. Upgrading to Canva Pro allows users to upload fonts, logos and other essential graphics to build branded designs.
Pro tip: Use filters to search for graphics by colour scheme.
3) LEVEL UP YOUR DESIGN GAME: LAYERS
Most design programs allow users to layer design elements. Bringing layers to the front means the layer is on top, while bringing elements to the back places them underneath, in the background. Use Canva to easily select and send elements, forwards and back to create depth in your designs.
Try it: use layers to create depth or shadows in your design.
4) AVOID FRUSTRATION: GROUP & GRAB ELEMENTS
Now that you're familiar with layers, here's how to select multiple elements in your design and protect them from further adjustments. Simply hold shift, and select each different element. If desired, use the lock button to freeze the elements in place. Unlock to make adjustments.
5) YOUR NEW SECRET WEAPON: QUICK KEYS
Learning to use quick keys in the Canva design editor will make you feel like a pro. You likely already know the basics, like C for copy, V for paste, X for cut. But here are some extras: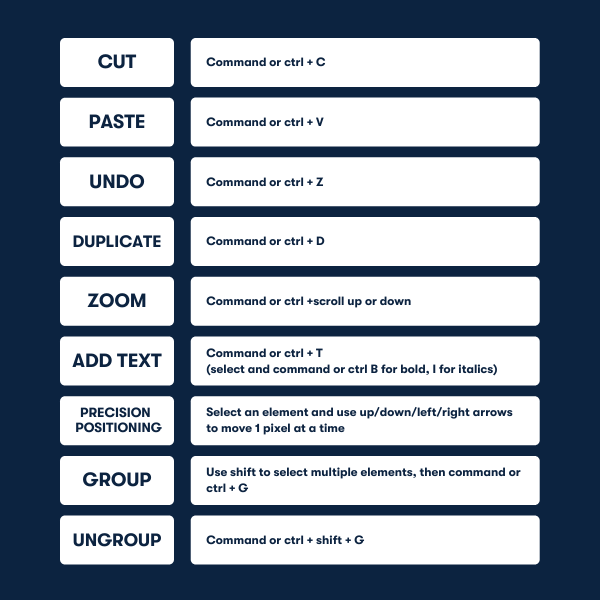 GIVE IT A TRY
Learning to use Canva is a breeze. Give it a try and design your next project with TPH.
Thanks for reading!
Feeling inspired to get moving on your own project? Shop online or contact your local TPH Manager to chat about your next idea.
Love this post? Check out:
How we make it
Discover tips and tricks. Meet our project advisors and creative designers.
Serving up fresh ideas daily @tphcanada
Meet innovative creators, find inspiration in the details, and discover outside-the-box design. Connect with us & share your amazing creations.