In the last decade, more corporations are embracing their corporate social responsibility (CSR) and favouring environmental approaches. Brands have found that going green is a great way to increase employee engagement and consumer loyalty. If you want to attract top talent, it's mandatory to start taking positive steps towards a healthier planet. There are many small ways to start with reducing your business' environmental footprint. Print is one.
Now more than ever, it's crucial individuals take charge as both a business leader and educated consumer. We're here to walk you through how you can empower teams to make a difference in your print marketing – one piece of paper at a time. We'll share how you can make more sustainable choices with your event posters, invites, trade show materials, displays, and more.
Start picking your marketing materials with sustainability in mind.
1 – Choose FSC® recycled paper
Not all paper is made the same. If you cannot choose an FSC-certified option, choose recycled.
FSC-certified paper means that it was harvested and produced in a responsible manner. Choosing products with an FSC label means that you're supporting the protection of endangered forests and wildlife.
When you're using recycled paper over virgin paper you're saving energy, water, and landfill space. Make your paper choice knowing you're having an impact on reducing greenhouse gas emissions.
What does FSC stand for?
FSC is the acronym for Forest Stewardship Council, which is an independent, non-profit organization. Their initiatives to prevent deforestation are backed by respected NGOs Greenpeace and WWF. To lessen your impact, request that your printer provide FSC-certified paper with mixed or 100% recycled content.
Brands making the shift
At TPH, we use 100% recycled paper for our office printing. We offer guidance to our clients to make the switch to FSC through their posters, direct mail campaigns, envelopes, event lanyards and more! We can also guide brands with what standards they should be meeting to add the FSC logo to their own products.
Build your business' credibility by showing that you care about the origin of your marketing materials.
To help you understand how FSC-certified paper is created, we've broken down the types of FSC labels.
3 types of FSC labels
FSC 100%
Made with 100% virgin material from FSC-certified forests.
FSC Recycled
Made with 100% recycled fibre.
FSC Mix
A combination of FSC virgin fibre, controlled virgin fibre and recycled fibre.
Getting started
As North America's Most Forest-Friendly printer – determined in Canopy's 2019 Blueline Ranking, TPH can assist you with our wide selection of 100% recycled FSC-certified paper for your print. We're available to offer support with what materials will make your print marketing more sustainable.
2 – Limit vinyls
Vinyl is a great option for long-term outdoor use. It's long-lasting, scratch, and weather resistant. However, it's produced in an environmentally harmful way and it doesn't break down in a landfill. In vinyl's production process, toxins are released into the air that have a negative effect on communities, farms, and fish.
Short-term vs. long-term use
One of the key benefits of vinyl is that it's more durable for long-term use. However, for a one-day event, using environmentally friendly alternatives like recycled paper should be your preferred option.
Switch your event banners from vinyl to fabrics
Fabric banners have a longer lifespan and can take more wear than their vinyl counterpart. By producing display banners less often, you'll be saving money.
Plus fabric is lighter to ship – which means that your carbon footprint will be lessened in the shipping process.
Tip: Return your unwanted fabric banners to TPH and we'll turn them into handy totes!
Environmentally friendly vinyl-free indoor signage
Ditch the vinyl for Dispa® display boards! Dispa® is a strong, rigid and environmentally friendly signage option. Dispa® is made from 100% FSC-certified paper – thus recyclable.
3 – Reduce your plastics
Take the time to notice plastic's presence in your marketing materials. Make an effort to reduce unnecessary plastics in your display stands, shipping packaging and accompanied print.
Why is plastic bad?
Plastic is filling our oceans and killing our wildlife. Not all plastic is recyclable – and it can last for decades.
Great Canadian Shoreline Cleanup found that tiny plastic or foam came in as the number one culprit with over 333,289 items of litter. Plastic related materials made Canada's dirty dozen list as 8 of the top 12 offenders.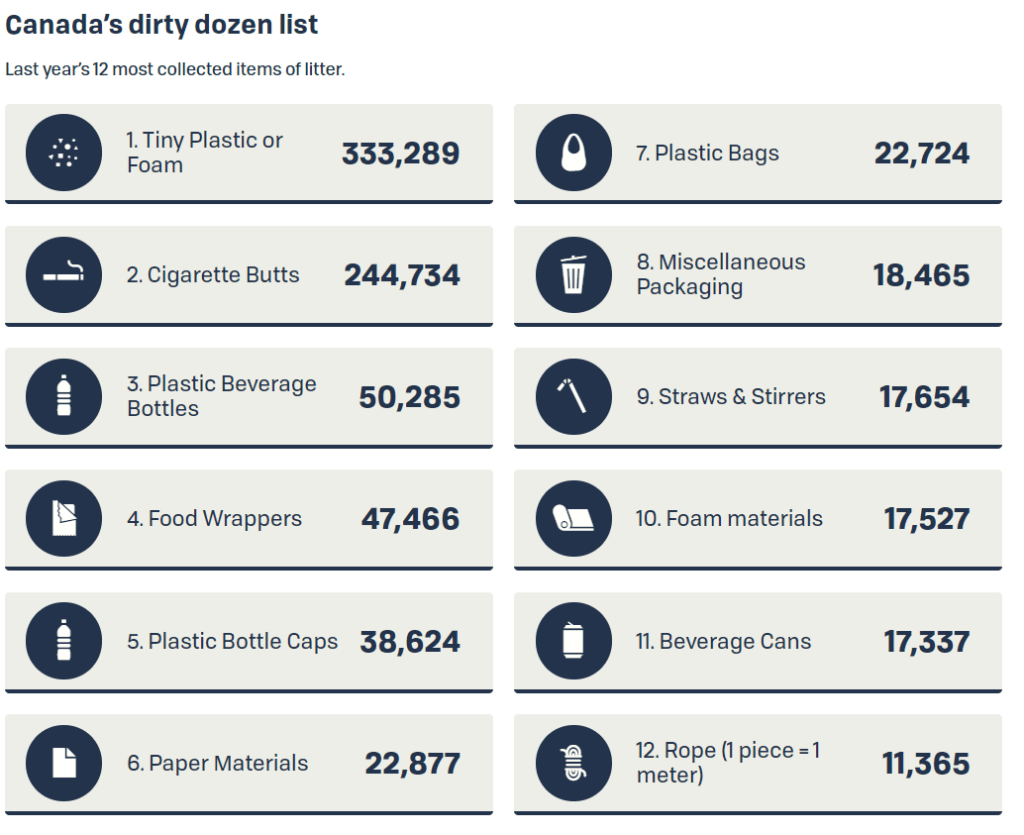 Plastic alternatives
Swap your gift cards for a recycled paper card stock alternative. Encourage clients to recycle them when finished!
During events, avoid covering lanyards in unnecessary plastics by using a heavier card stock. Request that your attendees return lanyards at the end of the event so that you can reuse them.
Printing branded envelopes?
Take notice of the plastic window that overlays the delivery address. TPH can swap this plastic for 100% biodegradable film.
For large displays print directly to large format plastics like Coroplast® or Sintra®. Recycle the plastic board when done!
4 – Choose to reduce wasteful printing and use your budget to print environmentally
Explore how you'll save money by being wiser with your print. This will allow you to be able to reallocate your budget to environmentally friendly options. Former IBM executive and sustainability guru Bob Willard's making sustainability a business advantage can help you make the business case for environmentally friendly marketing decisions.
With the Environmental Paper Network's Print Calculator see how reducing wasteful printing and switching to FSC recycled paper will have a positive effect on limiting deforestation, net energy, greenhouse gases, water usage and waste. Measure your impact of specific paper you're using to alternatives with higher recycled content.
5 – Champion sustainability at your workplace
Become a leader for sustainability at your workplace by joining WWF-Canada's Living Planet @ Work program. This award-winning program offers free online resources and ideas to help you to lead sustainable initiatives at work, including solutions to print more responsibly. Visit atwork.wwf.ca to access resources that will help you start green teams, implement office footprint reduction actions and host meaningful WWF activities to engage your colleagues in making an impact for nature.
Next steps
Lead by example – start reducing your environmental impact and force the hand of your competitors to do the same. When planning your 2020 marketing campaigns – make sustainable print a part of the conversation.
Feel confident working with TPH knowing that our paper is sustainably sourced and that we offer an abundance of environmentally-friendly options.
Contact TPH to start making the switch to environmentally conscious print.
How we make it
Discover tips and tricks. Meet our project advisors and creative designers.
Serving up fresh ideas daily @tphcanada
Meet innovative creators, find inspiration in the details, and discover outside-the-box design. Connect with us & share your amazing creations.