Did you know we offer safety shields and sneeze guards in a variety of styles and sizes? Here are some of the best spaces where countertop shields and retractable sneeze guards will keep you, your staff, and your customers safe.
1 – Retail Spaces
Retail shops are no strangers to the comings and goings of crowds. Our countertop safety shields, eco-friendly countertop shields, and retractable sneeze guards offer a barrier to keep your staff safe – preventing the spread of COVID-19. Both shield styles provide a transparent window. They feature a slot in the base allowing for easy, comfortable transactions. This ensures you can work with customers smoothly and efficiently while keeping each other safe.
2 – Restaurants
With patios now open, there's no need to sacrifice comfort for safety. A countertop shield can be used to protect your host stand or take-out pickup spot, giving your staff peace of mind. Retractable sneeze guards offer physical separation between adjacent tables for added privacy and protection. Try our classic, transparent guard, or customize it with your business' branding.
3 – Grocery Stores
While operating our front-line food service industry, we must keep our essential workers safe. Countertops shields, face shields, and masks provide a barrier between cashiers and customers. The added slot easily accommodates debit or credit transactions, and the clear plastic surfaces can be easily cleaned.
4 – Salons & Spas
As restrictions have lifted, many have flocked to the comfort of a salon or spa for a long-awaited haircut or manicure. Countertop safety shields grant an extra layer of protection for staff working intimately with customers. Not only can the slot be used for transactions, but also as a physical barrier between nail artists and customers.
5 – Waiting Rooms
The healthcare sector is no stranger to going the extra mile, keeping its patients healthy and safe. A countertop safety shield protects staff in dentist offices, pharmacies, and waiting rooms alike. These shields easily compliment already established safety measures such as face shields, hand sanitizer and physical distancing signage.
Why use countertop shields?
Protect your staff
Countertop shields and retractable sneeze guards serve as the first line of defense against COVID-19 for many businesses as they receive the green light to reopen. These protective measures offer peace of mind to staff in offices or customer service industries – from baristas to cashiers. It never hurts to be too cautious or compassionate for the sake of your staff. A physical barrier such as a safety shield can make a huge difference in morale.
Protect yourself and your customers while remaining eco-friendly
Our paper-based shield acts as a sneeze guard while remaining eco-conscious. It's made with responsibly sourced, FSC® certified paper and is 100% recyclable. Standing 24" x 34.25" in height, this shield is moisture-resistant and ideal for a retail storefront. Perforation along the bottom allows for a closed-off shield or an added transaction slot.
Get the right shield for your space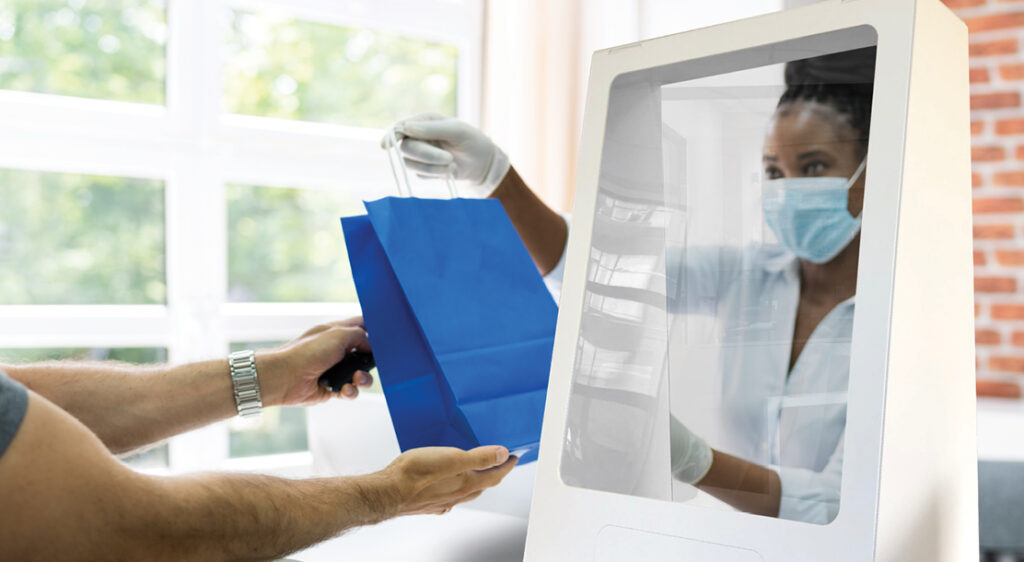 A barrier shield is only effective when used appropriately. Our countertop safety shields are available in a variety of sizes. It's important to measure your space and countertop before installing a shield; too small a shield may put your workspace, staff, and customers at a health risk and too big a shield could risk falling over and becoming damaged.
In a smaller, more condensed space, a retractable sneeze guard will maximize floor space while dividing groups of people. This stable and durable barrier works great in customer-facing businesses, restaurants, and office spaces alike.
Don't overlook additional protection such as face masks
Keep your staff healthy and on-brand with custom embroidered facemasks featuring name personalization or your company logo. Contact your local TPH production centre or browse more health & safety supplies.
How we make it
Discover tips and tricks. Meet our project advisors and creative designers.
Serving up fresh ideas daily @tphcanada
Meet innovative creators, find inspiration in the details, and discover outside-the-box design. Connect with us & share your amazing creations.