The PIVOT series shines a spotlight on our resilient customers during a year of unprecedente­­d disruption. Those who are pivoting to survive, thrive and connect with their customers in a new way.
Meet Piers Simpkin, owner and operator of Market Brewing located in Newmarket, ON.
We spoke with Piers over the phone to learn about the unique obstacles, opportunities, and changes his business and team have faced in the past year.
Turns out Market Brewing has not only pivoted once but many times. Like so many other businesses who have been forced to adapt to changing circumstances, information and best practices.
"We'll just figure it out."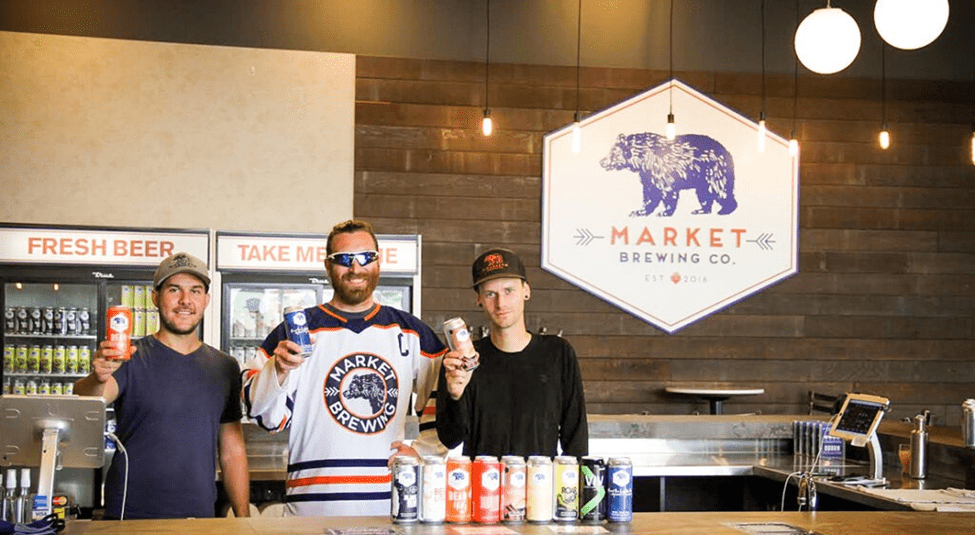 In the face of uncertainty, layoffs, and restaurants pushed to the brink- the team at Market Brewing has come together to re-invent themselves.
When the WHO called for help to produce hand sanitizer and the local area hospital echoed the need for supplies for their frontline staff, Market Brewing launched Bare Hands sanitizer. Putting in 12-16 hour days those first couple of months the team set up production, acquired the proper licensing, branded, produced and donated 1000 bottles to Southlake Regional Health Centre.
In August 2020, Market Brewing was recognized by the Government of Ontario for accepting the call to action and retooling half of the brewery to produce Health Canada-approved Bare Hands Sanitizer.
"We've got to keep surviving."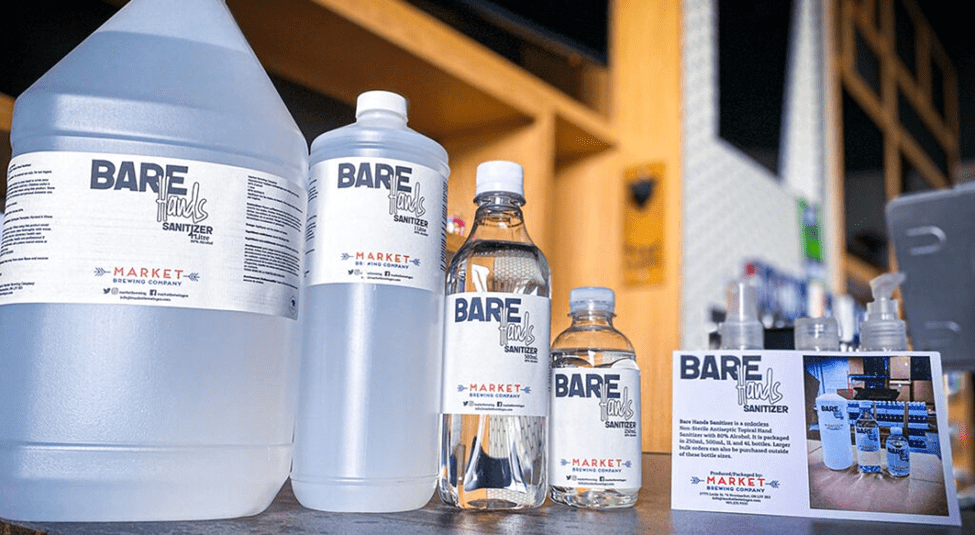 Simpkin says he knew they just had to keep going. Instead of relying on their business model, he had to get creative. With uncertainty looming, Simpkin launched an online store with curbside pickup and free local deliveries. The response was significant, and he knew they were on the right track.
As restrictions loosened up close to the summertime, the brewery adjusted its massive retail space to go above and beyond the social distancing regulations. They acquired an outdoor patio license and invited local food trucks to make the most of their large property. Customers were invited to bring their favourite take-out to the dog-friendly patio.
If the patio was full, customers were encouraged to bring a blanket and enjoy a socially distanced picnic on the grassy hill beside the patio space. Market Brewing teamed up with SNAP to host a charitable Friday music series after the SNAP team lost the ability to use their indoor venue due to regulations.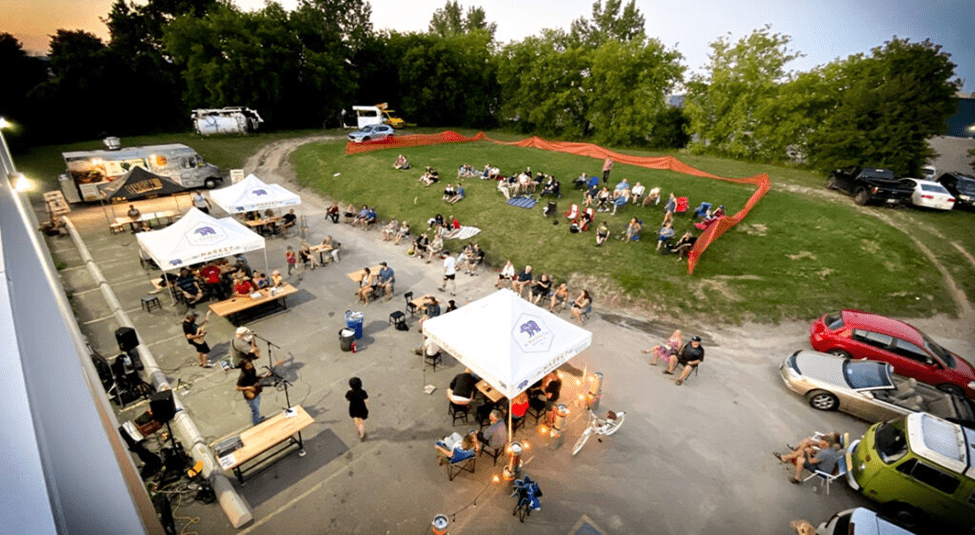 As patio season wound down, Simpkin figured they would find a way to host their 3rd annual Christmas Market outside. Admission was a non-perishable food donation or $5 to charity and local vendors were invited to use the space while following public health regulations. The event raised even more than they had the previous year- over 1000lbs of food and $645 cash for Newmarket Food Pantry.
The collaboration only grew as Simpkin invited local artisans to set up in the Market Brewing taproom. Simpkin admits that the business is fortunate to have been deemed essential, but found a way to share the shelf space with other businesses. This model eventually made its way online and 'The Market Place' was launched for customers to buy anything from coffee to frozen prepared meals.
Fast forward to February 2021, and Ontario is in the middle of a second wave of the Corona-virus and another lockdown that is hard on businesses. Simpkin saw young people fleeing the city to move home or live for less outside of the city. That spurred the launch of Market Brewing's Bottle Shop, making sought-after Toronto beers available to the community through the shop.
"Don't be scared… you've got to take those leaps of faith."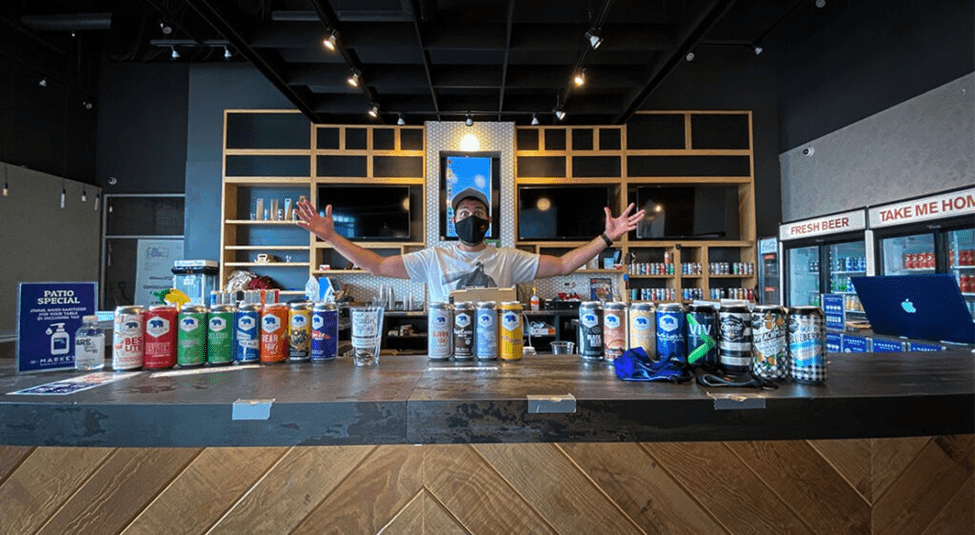 Piers Simpkin credits a tight-knit team to the survival of the business and brand. Every single person is working towards the same goal to build the business through tough times. Their marketing focus has been on beautiful online content, continuing to nurture the look and feel they had worked so hard to create.
But it doesn't take much effort to realize there's a method to the madness that is Simpkins' drive to keep going. A drive shared by many small to mid-size business owners to keep going despite the unknowns. By connecting with his local community, fundraising and giving to others, putting customer's safety and comfort first, and collaborating to build others up- Market Brewing's Piers Simpkin has shown the resilience of his community.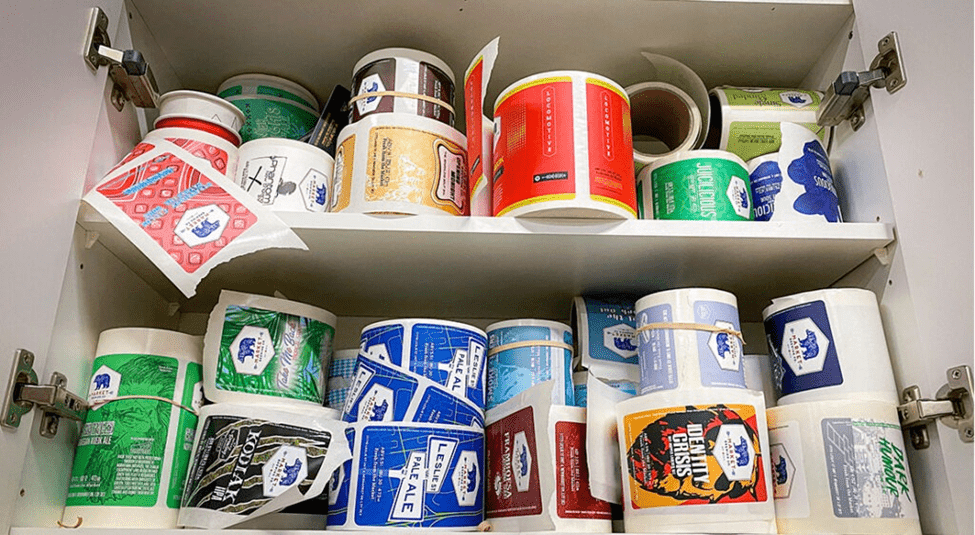 "We've been working with The Printing House in Alliston for the last four years and couldn't be happier with the quick service and quality products over the past year. Nazie and the TPH team are always looking for new ways to help save us money during these challenging times. We're always pushing quality with our products and having The Printing House take care of our labels is always in-line with our high-quality standards!"
– Piers Simpkin, Market Brewing
Thanks for reading!
About Market Brewing
Newmarket's craft brewery and premier event space. Find hand-crafted beers, quality hand sanitizer, all in an industrial, rustic taproom & event space. Local deliveries Monday, Wednesday and Friday. Ontario Craft Beer/Cider Bottle Shop also now open! See more at www.marketbrewingco.com
About TPH Canada
Feeling inspired to get moving on your own project? Shop TPH.ca to order online or contact your local TPH manager to chat about your next idea.
How we make it
Discover tips and tricks. Meet our project advisors and creative designers.
Serving up fresh ideas daily @tphcanada
Meet innovative creators, find inspiration in the details, and discover outside-the-box design. Connect with us & share your amazing creations.